2023 February - Mad River Valley Real Estate Driven by Data
Posted on 2/15/2023 by Erik H. Reisner
In Brief:
The winter of 2022-2023 continues to defy logic. There are more unseasonably warm temperatures coming this week after a crazy deep freeze just a few weeks ago. The ski areas are surviving but not thriving due to the lack of natural snowfall this season. Overall the ski conditions are better than you'd think, so don't hesitate to plan a trip and remember that March can be our biggest month for snow, so stay optimistic and think snow! The lack of snow is eerily similar to the lack of real estate inventory…
Recreation and the forecast:
Both Sugarbush and Mad River Glen are reporting generally favorable skiing conditions, and Ole's and Blueberry Lake Cross Country centers have nicely groomed Nordic trails. There's a bit of a thaw happening this week. Hopefully we'll get some snow on the other side as next week is President's Week, the busiest week of the year for Sugarbush and Mad River Glen. Be sure to check out our webcam page for real-time weather updates: https://www.mrvre.com/webcam
Now onto the market update:
Currently there are 2 single family homes under contract or pending sale in the price range of $79,900 - $365,000 (2 last month as well, 7 two months ago), 8 condominiums under contract or pending sale priced from $95,000 - $949,000 (6 last month, and 4 two months ago), 6 undeveloped land parcels under contract from $95,000 - $250,000 (2 last month, and 2 two months ago), and ZERO commercial properties under contract (1 last month, and 1 two months ago)
Regarding the properties that are currently under contract, 5 condos and one single family home came on the market after January 1st which are now pending. With historic low inventory, we are still seeing many properties sell very quickly.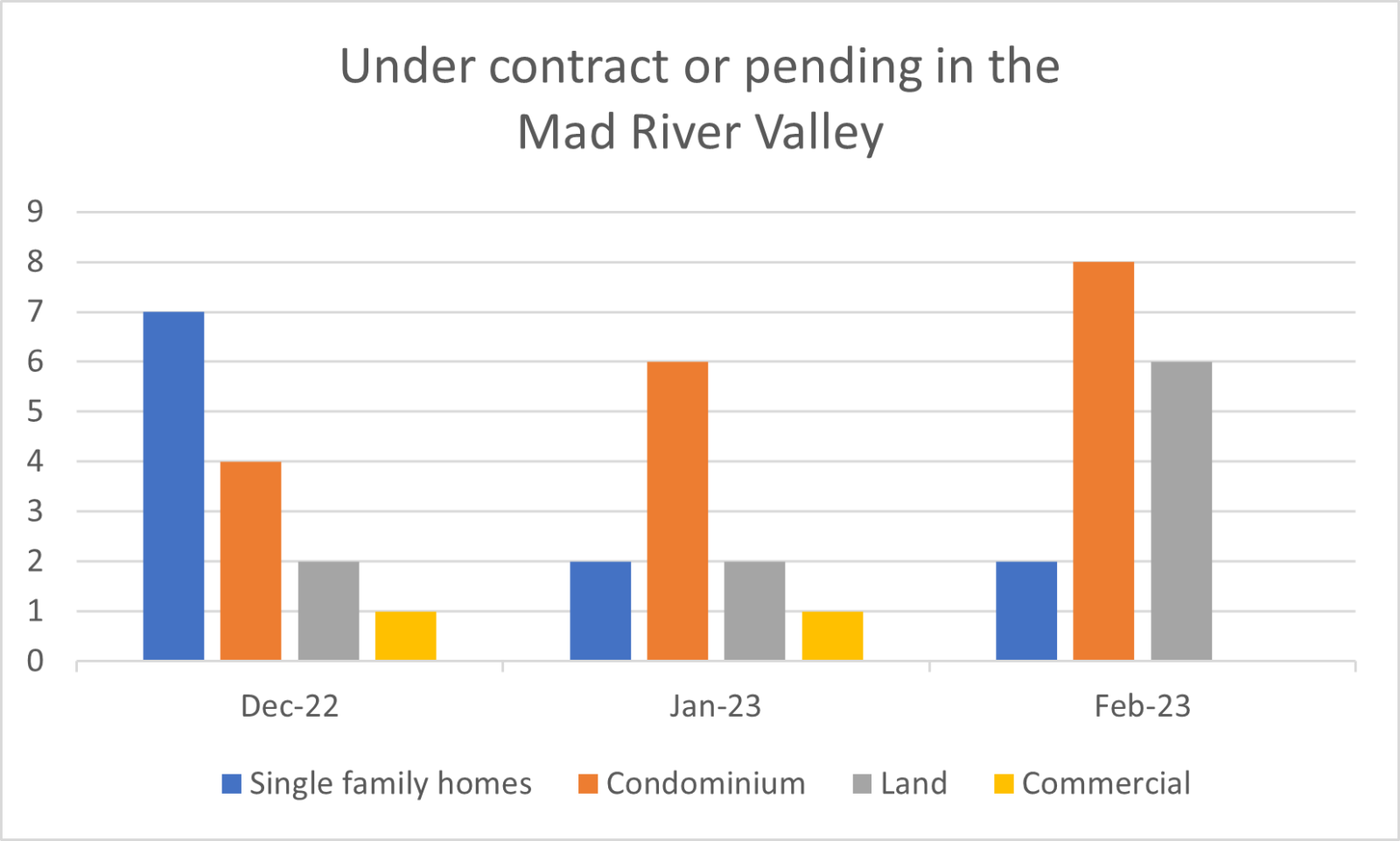 There were 8 single family home sales in November 2022 from $108,000 - $1,200,000 (up from 4 sales in October). There were 7 condominium sales from $167,500 - $1,250,000 (up from 2 sales in October). There was ONE undeveloped land sale in November of 2022 for $950,000 (down from 3 sales in October). There were zero commercial sales in November 2022 (zero sales in October).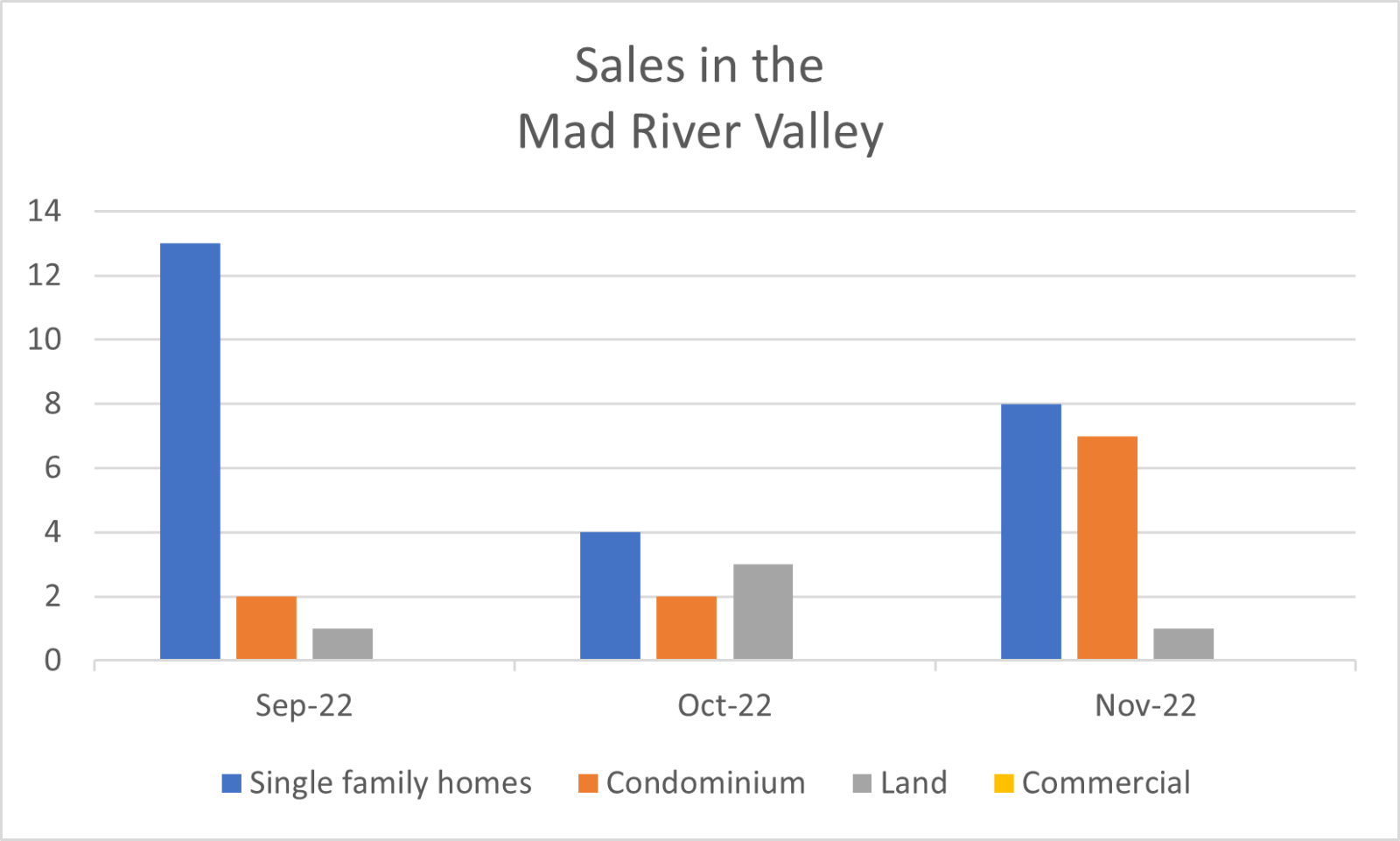 Our Take on the Central Vermont Real Estate Market:
We have never seen the real estate inventory this low here in the Mad River Valley, throughout Central Vermont and beyond. The migration to rural New England is a very real phenomenon. Buyers are moving south to north, fleeing rising temperatures, and west to east, fleeing the fear of forest fires. That combined with the continued demand for vacation homes, investment properties, and full-time buyers that can work remotely. It's become a perfect storm that has decimated the real estate inventory. Do you have a property to sell? The time couldn't be better if you do. The old adage of "nobody buys homes during the winter" no longer applies. The buyers are here, ready, willing, and able. Whether you are a buyer or seller, the team at Mad River Valley Real Estate is here to guide you through the process.
The current inventory in the Mad River Valley is down to 2 single family homes (3 this time last month), whole-ownership condos are down to 4 (5 this time last month), and 11 undeveloped land parcels (11 this time last month as well), and 3 commercial properties (3 last month as well). That is 20 active listings across all sectors, down from 22 last month. In contrast, in the past calendar year there have been 74 single family home sales, 79 condo sales, and 31 land sales!
Are you at all considering selling your Vermont property? If so, whether it's a home, condo, land, or commercial property: WE WANT TO HEAR FROM YOU! What is your "Make Me Move price?" You very well may be able to achieve that dream or possibly more! SERIOUSLY, WE NEED TO TALK!
If you are a buyer actively searching in this ultra-competitive market, be sure to have your ducks in a row with your financing and down-payment. Or have some "creative" solutions to be able to waive a financing contingency. Also be sure to be connected with an agent who is ready, willing, and able to keep you in the loop as properties come to market. HINT, HINT, we're really good at that!
Historical Mad River Valley Real Estate to November 30, 2022:
Below are two graphs that show the total number of units sold (single family homes, condominiums, commercial properties, undeveloped land), as well as the total dollar volume through November 30, 2022.
This blog post will be updated on a monthly basis to track year-to-date real estate sales in the Mad River Valley. The data is gathered from the State Property Tax Transfer records and includes all sales above $20,000. Vermont Property Transfer Tax data is typically +/- 3 months behind as it takes time for all the towns to file the returns with the State. Therefore, we are reporting here on accurate sales data from 3-months prior.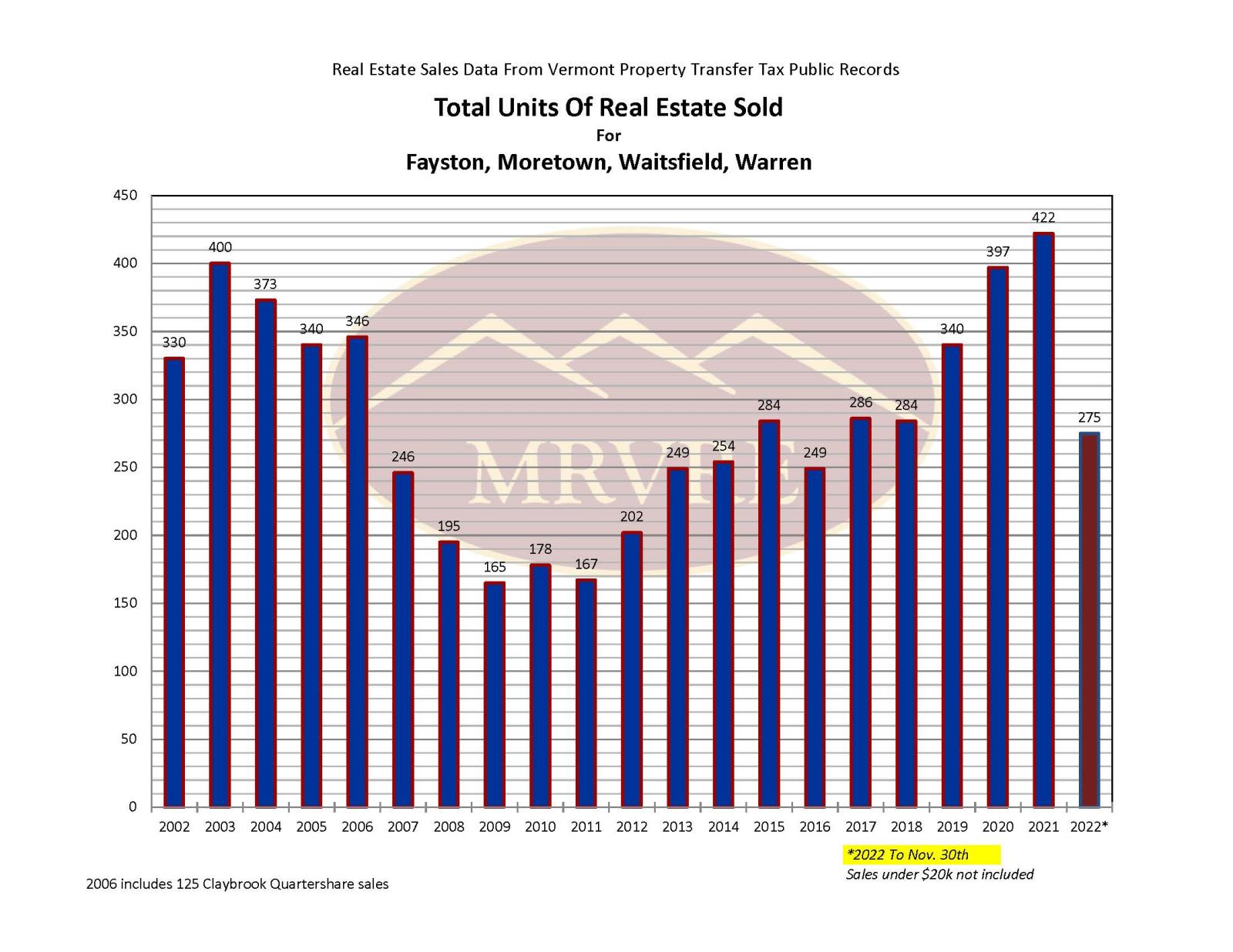 Whether you are a potential buyer or seller, this data is a valuable resource to help you make informed real estate and financial decisions.
If you have any questions about these graphs, or anything real estate related, give Mad River Valley Real Estate a call or send us an email.