2022 November - Mad River Valley Real Estate Driven by Data
Posted on 11/10/2022 by Erik H. Reisner
In Brief:
Stick Season is upon us! Thus far it's been an incredibly mild season, which is great for getting winter-prep chores completed, but not so great for the ski resorts' ability to make snow. Tropical storm Nicole will be bringing up to 2 inches of rain this weekend, which won't help what little snow has been made, but hey, it will fill the snowmaking ponds. Always look on the bright side! On that note, the real estate market continues to be great for sellers.
Recreation and the forecast:
With unseasonably warm weather we're seeing many folks getting outside to recreate as well as raking leaves, stacking wood, and generally enjoying the sunshine while it lasts. There's still time to get in a few more bike rides before the snow starts to fly. This is a great time to drop off your skis and boards for a tune up and binding safety check. While we love this mild stretch of weather, it sure would be nice to see some snow flakes soon. Winter isn't much fun unless there is ample snow to play with. In general, as the temperatures drop, so do the number of real estate sales. Let's see if that rings true this year…
Now onto the market update:
Currently there are 17 single family homes under contract or pending sale in the price range of $79,900 - $2,199,000 (16 last month, and 15 two months ago), 9 condominiums under contract or pending sale priced from $149,000 - $1,395,000 (up from 6 last month, and 7 two months ago), 4 undeveloped land parcels under contract or pending sale from $250,000 - $950,000 (down from 7 last month, and 6 two months ago), and 1 commercial property under contract (1 last month, and 1 two months ago)
Regarding the properties that are currently under contract, 4 single family homes were listed after October 1st that are now pending, and 4 condos came on the market after October 1st that are now pending. Clearly the market is still very active, despite the lack of inventory.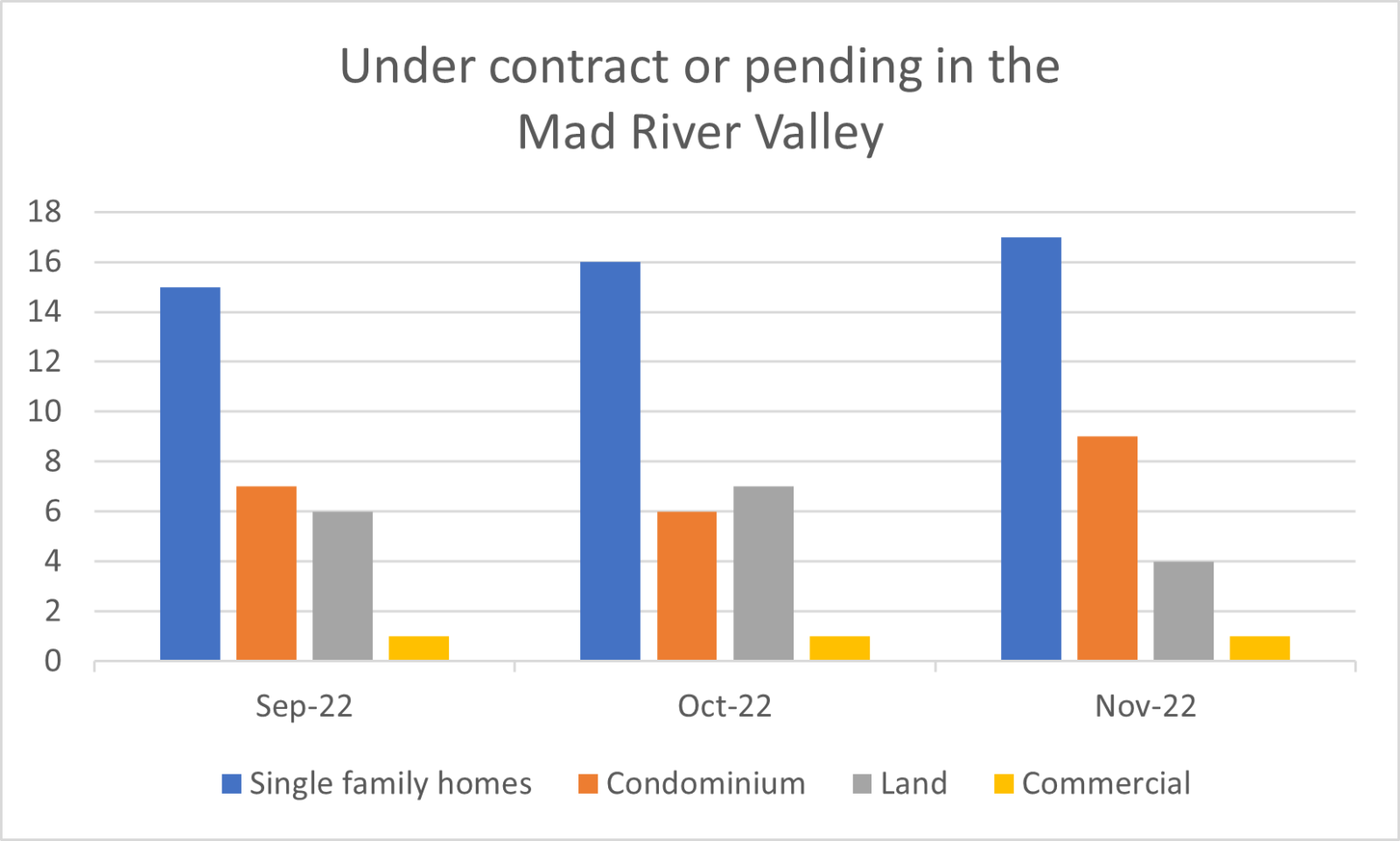 There were 8 single family home sales in August 2022 from $302,500 - $1,025,000 (up from 1 sale in July). There were 8 condominium sales from $73,000 - $1,295,000 (up from 5 sales in July). There were zero undeveloped land sales in August of 2022 (down from 2 sales in July). There were zero commercial sales in August 2022 (zero sales in July).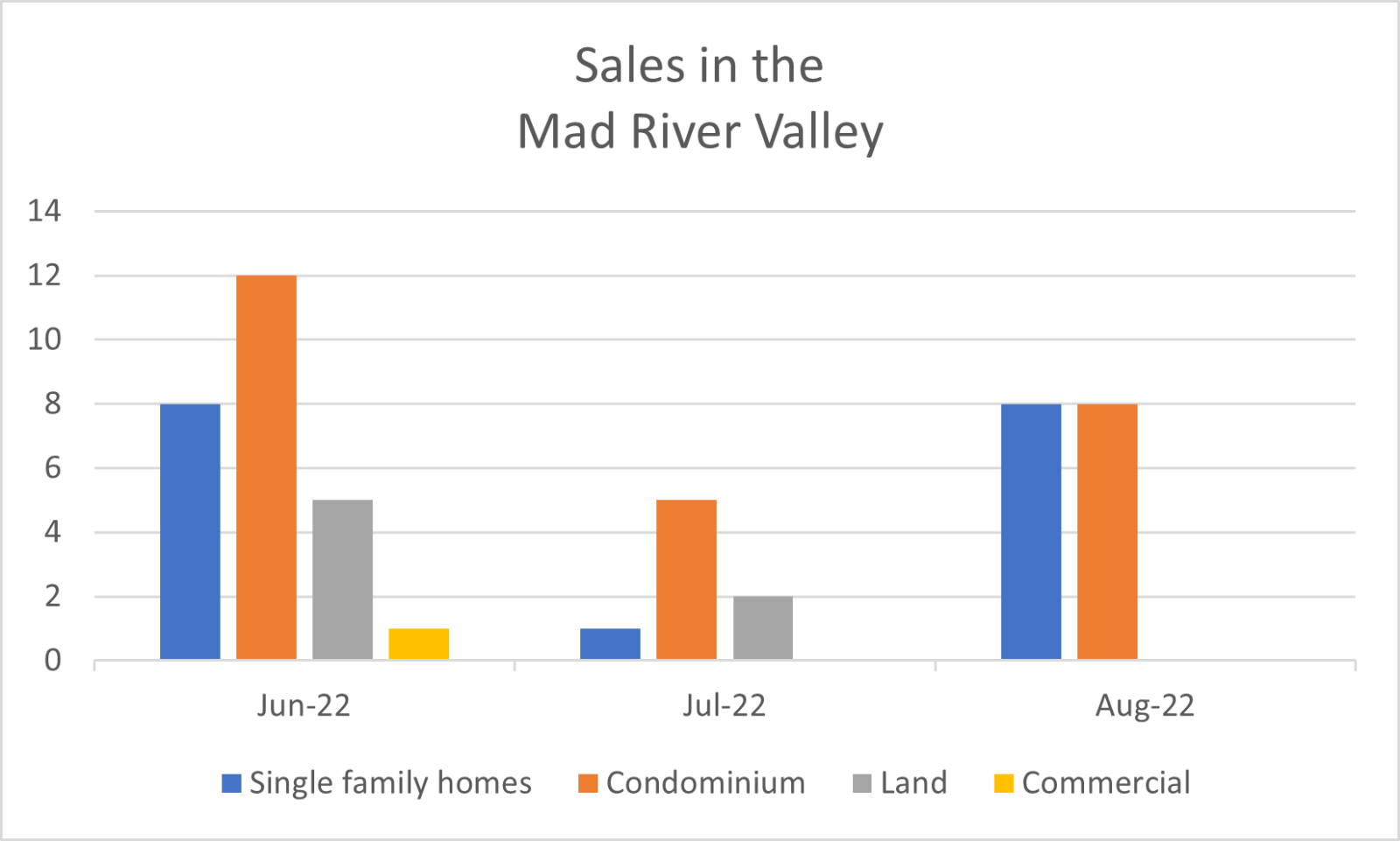 Our Take on the Central Vermont Real Estate Market:
As we predicted, now that we are in stick season, the real estate market has begun to slow down. While this is historically consistent with previous years, it is exacerbated by the lowest overall level of inventory we've ever seen. We know there are still a lot of buyers that are ready, willing, and able, but there simply isn't enough inventory to go around. Yes, interest rates are up, but we don't think that is moving the needle. We predict an inventory issue for the foreseeable future. So, if you're contemplating selling, there really is no bad time of year to list in the Mad River Valley. If you're on the fence, give us a call!
The current inventory in the Mad River Valley is down to 8 single family homes (9 this time last month), whole-ownership condos are down to 3 (6 this time last month), and 13 undeveloped land parcels (12 this time last month), and 3 commercial properties (3 last month as well). That is 27 active listings across all sectors, down from 32 last month. In contrast, in the past calendar year there have been 73 single family home sales, 84 condo sales, and 44 land sales!
Are you at all considering selling your Vermont property? If so, whether it's a home, condo, land, or commercial property: WE WANT TO HEAR FROM YOU! What is your "Make Me Move price?" You very well may be able to achieve that dream or possibly more! SERIOUSLY, WE NEED TO TALK!
If you are a buyer actively searching in this ultra-competitive market, be sure to have your ducks in a row with your financing and down-payment. Or have some "creative" solutions to be able to waive a financing contingency. Also be sure to be connected with an agent who is ready, willing, and able to keep you in the loop as properties come to market. HINT, HINT, we're really good at that!
Historical Mad River Valley Real Estate to August 31, 2022:
Below are two graphs that show the total number of units sold (single family homes, condominiums, commercial properties, undeveloped land), as well as the total dollar volume through August 31, 2022.
This blog post will be updated on a monthly basis to track year-to-date real estate sales in the Mad River Valley. The data is gathered from the State Property Tax Transfer records and includes all sales above $20,000. Vermont Property Transfer Tax data is typically +/- 3 months behind as it takes time for all the towns to file the returns with the State. Therefore, we are reporting here on accurate sales data from 3-months prior.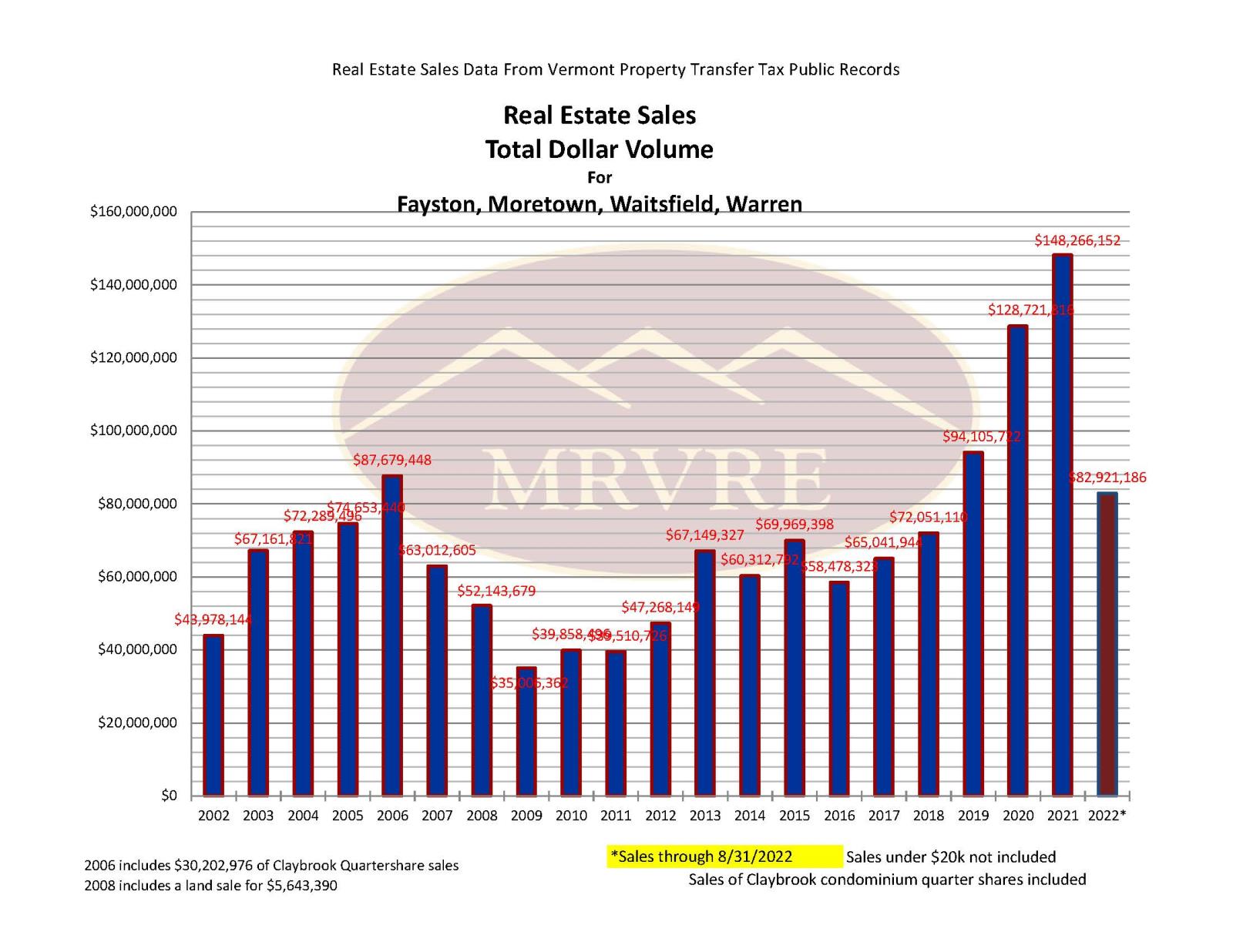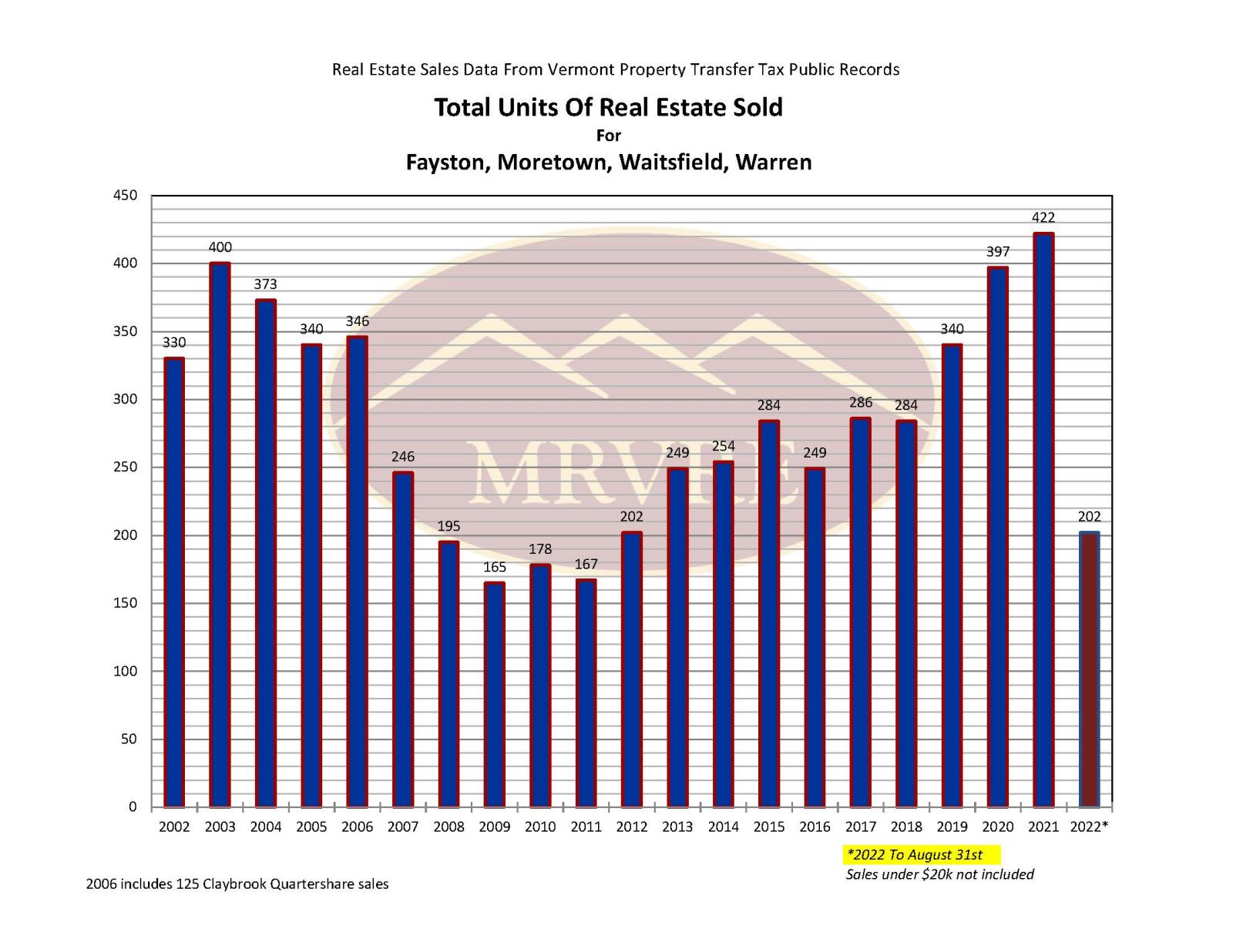 Whether you are a potential buyer or seller, this data is a valuable resource to help you make informed real estate and financial decisions.
If you have any questions about these graphs, or anything real estate related, give Mad River Valley Real Estate a call or send us an email.