2022 December - Mad River Valley Real Estate Driven by Data
Posted on 12/12/2022 by Erik H. Reisner
In Brief:
The ski and ride season has arrived, albeit with not much natural snowfall to date. Sugarbush's Lincoln Peak is open with 16 trails thanks to their upgraded snowmaking system. Mt Ellen is scheduled to open on 12/21. Mad River Glen opened for the weekend of 12/10 offering skiing on Chair 4, the Practice Slope Chair. They are suspending mid-week skiing for now. The lack of snow makes it hard to find a way to winter-recreate and the lack of real estate inventory make it hard to find a place to live!
Recreation and the forecast:
All I want for Christmas is a few feet of snow! There is some potential for "accumulating snow" later this week, but we'll need Ullr to cooperate with the temperatures to ensure we get some good base-building precipitation. For now, you can do laps on what limited terrain is available. A great opportunity to get your legs working and ready for when the Champlain Powder arrives. Both Sugarbush and Mad River Glen will do their best to continue to make as much snow as possible in order to expand terrain for the upcoming holiday weeks. Wishing everyone a safe and happy Holiday Season from your friends at MRVRE.
Now onto the market update:
Currently there are 7 single family homes under contract or pending sale in the price range of $79,900 - $1,390,000 (way down from 17 last month, and 16 two months ago), 4 condominiums under contract or pending sale priced from $149,000 - $595,000 (down from 9 last month, and 6 two months ago), 2 undeveloped land parcels under contract or pending sale from $250,000 - $450,000 (down from 4 last month, and 7 two months ago), and 1 commercial property under contract (1 last month, and 1 two months ago)
Regarding the properties that are currently under contract, 2 single family homes were listed after November 1st that are now pending, and 1 condo came on the market after November 1st that is now pending. With historic low inventory, we are still seeing properties sell very quickly.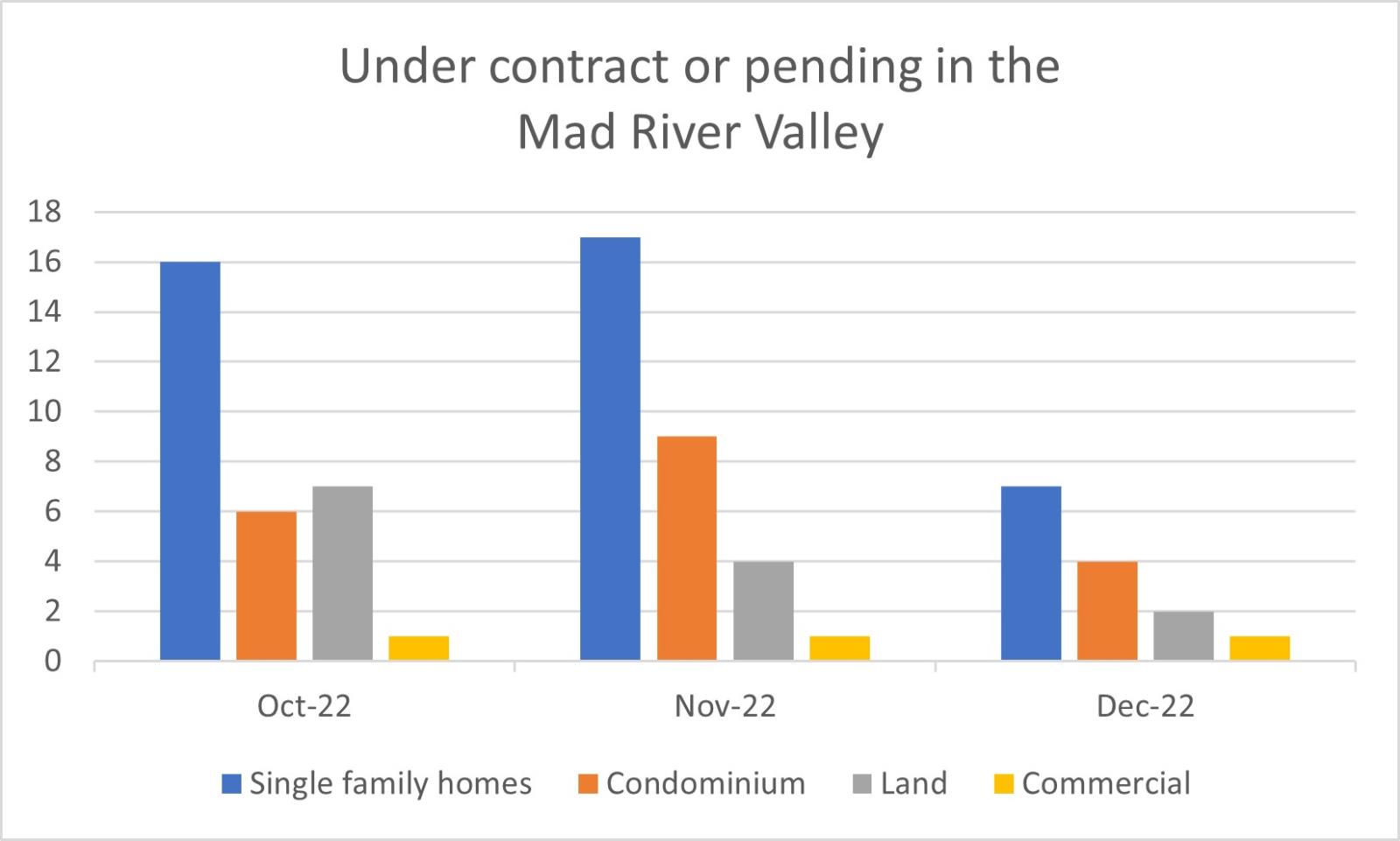 There were 13 single family home sales in September 2022 from $395,000 - $2,450,000 (up from 8 sales in August). There were 2 condominium sales from $55,100 - $458,000 (down from 8 sales in August). There was 1 undeveloped land sales in September of 2022 for $350,000 (up from zero sales in August). There were zero commercial sales in September 2022 (zero sales in August).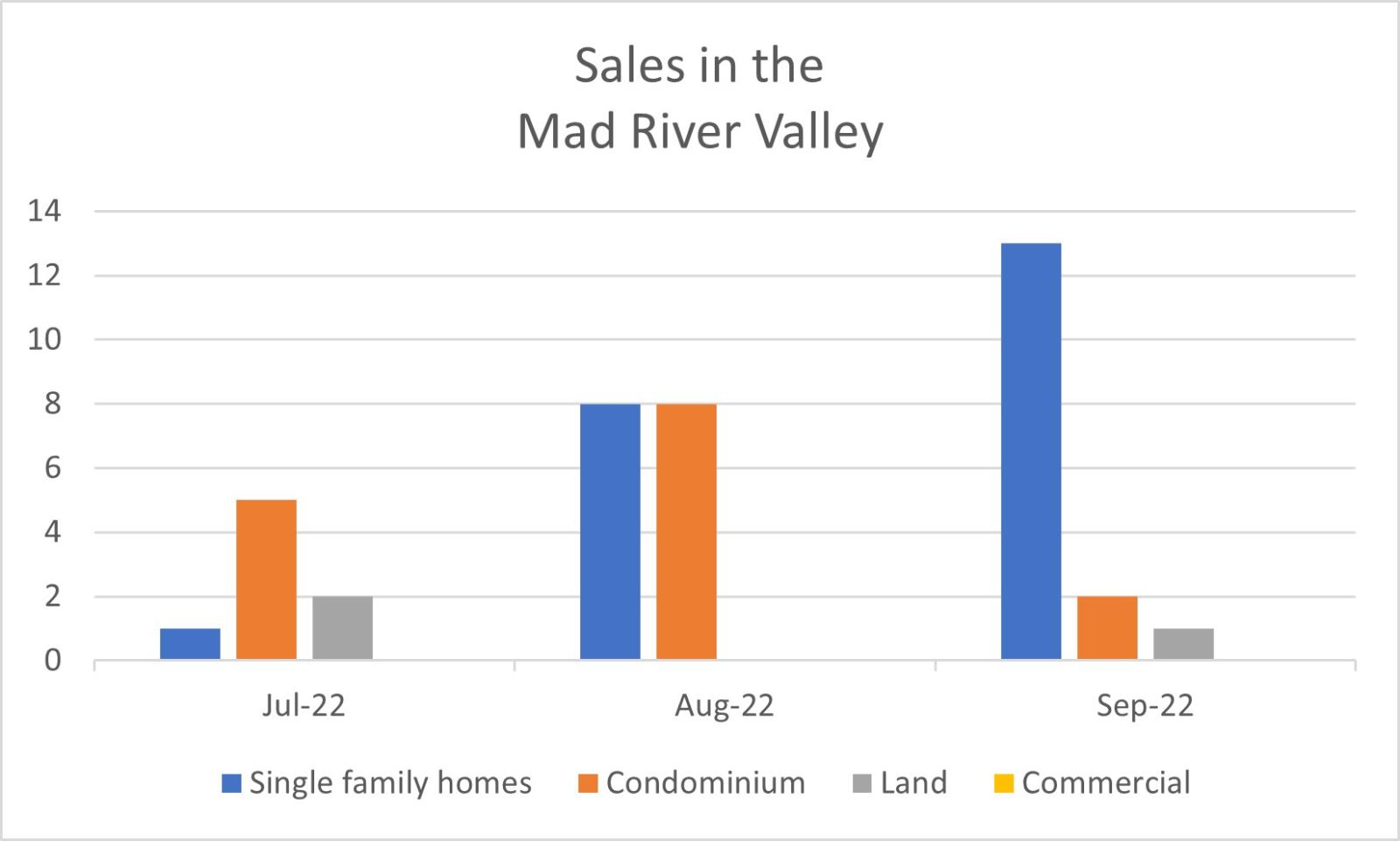 Our Take on the Central Vermont Real Estate Market:
Winter is here, which is typically a slow time of year for real estate sales and listings. However, we have never seen inventory this low, EVER. There are still interested buyers out there, but just not much for them to look at or purchase. We predict that there will be a lack of suitable inventory for at least a few years. That's a long time to wait if you are an anxious buyer looking to plant roots in the Mad River Valley whether it be full-time or as a second home/vacation property. If you are a potential seller, there is no longer a bad time of year to list your property. This could be your best opportunity to maximize on your real estate investment return. If you'd like to discuss our selling strategies, we're ready, willing and able to help! Give us a call or send us an email.
The current inventory in the Mad River Valley is down to 3 single family homes (8 this time last month), whole-ownership condos are down to 3 (3 this time last month as well), and 14 undeveloped land parcels (13 this time last month), and 3 commercial properties (3 last month as well). That is 23 active listings across all sectors, down from 27 last month. In contrast, in the past calendar year there have been 77 single family home sales, 84 condo sales, and 42 land sales!
Are you at all considering selling your Vermont property? If so, whether it's a home, condo, land, or commercial property: WE WANT TO HEAR FROM YOU! What is your "Make Me Move price?" You very well may be able to achieve that dream or possibly more! SERIOUSLY, WE NEED TO TALK!
If you are a buyer actively searching in this ultra-competitive market, be sure to have your ducks in a row with your financing and down-payment. Or have some "creative" solutions to be able to waive a financing contingency. Also be sure to be connected with an agent who is ready, willing, and able to keep you in the loop as properties come to market. HINT, HINT, we're really good at that!
Historical Mad River Valley Real Estate to September 30, 2022:
Below are two graphs that show the total number of units sold (single family homes, condominiums, commercial properties, undeveloped land), as well as the total dollar volume through September 30, 2022.
This blog post will be updated on a monthly basis to track year-to-date real estate sales in the Mad River Valley. The data is gathered from the State Property Tax Transfer records and includes all sales above $20,000. Vermont Property Transfer Tax data is typically +/- 3 months behind as it takes time for all the towns to file the returns with the State. Therefore, we are reporting here on accurate sales data from 3-months prior.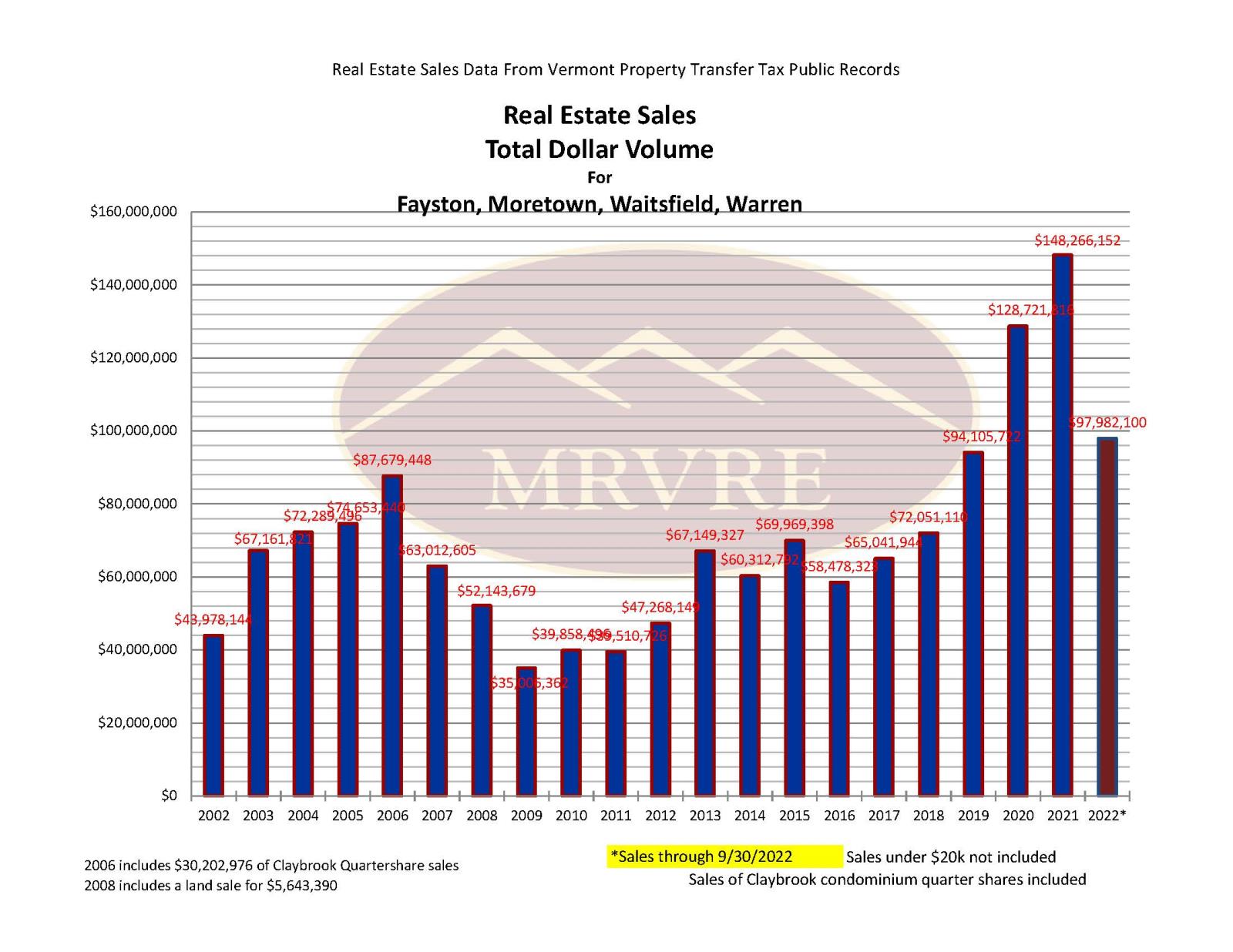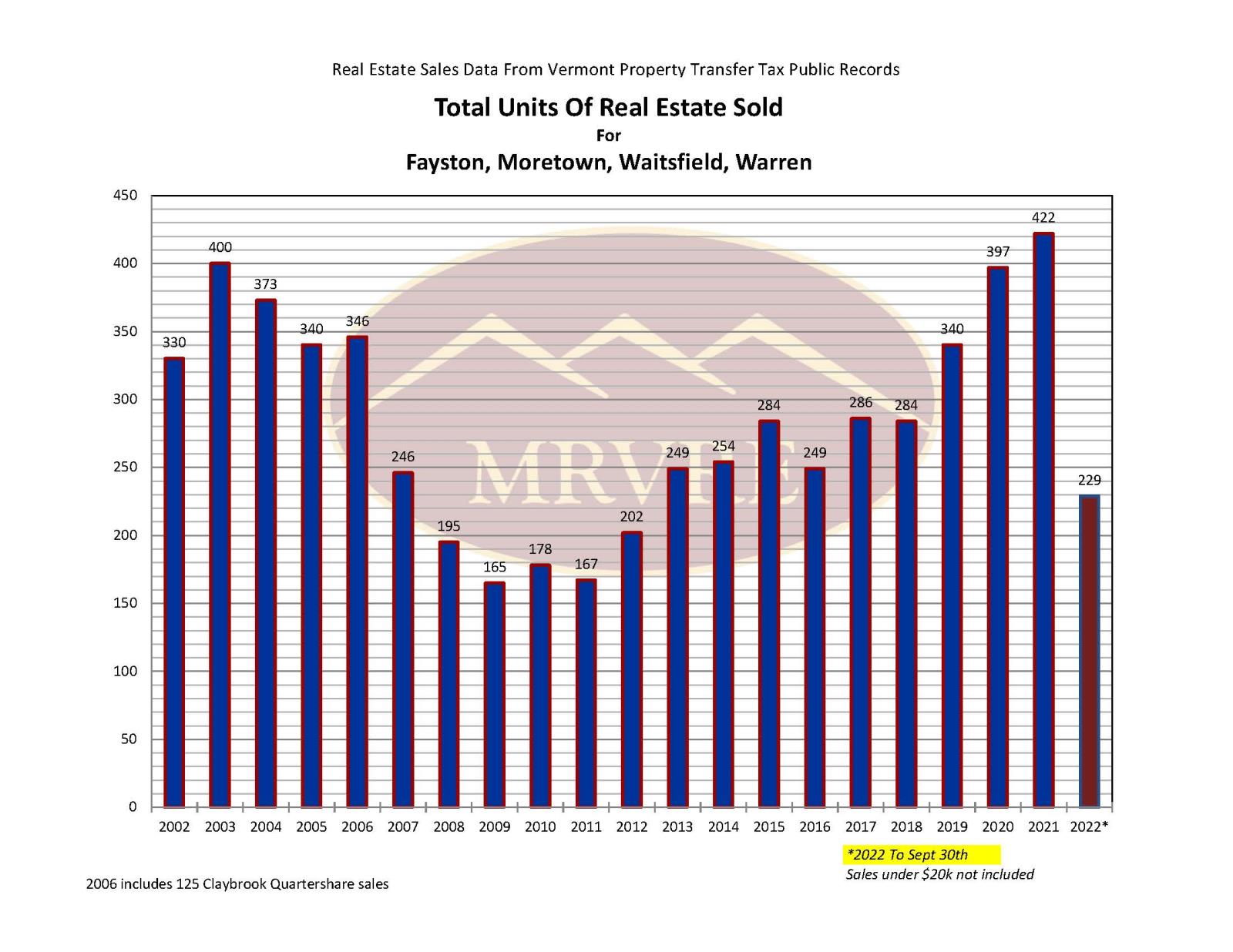 Whether you are a potential buyer or seller, this data is a valuable resource to help you make informed real estate and financial decisions.
If you have any questions about these graphs, or anything real estate related, give Mad River Valley Real Estate a call or send us an email.