2021 November Mad River Valley Real Estate Driven by Data
Posted on 11/12/2021 by Erik H. Reisner
In Brief:

We're in the midst of Vermont's sixth season: Stick Season. The time in between the technicolor autumn that did not disappoint this year and the arrival of winter which will hopefully bring a plethora of powder snow to make skiers and riders dreams come true. This is generally a pretty quiet time of year for real estate agents as most buyers and tenants have secured their short or long-term housing needs. While that appears to be the case this year, it's mostly due to the lack of inventory as there are still a metric ton of buyers and tenant prospects actively searching.
Recreation and the forecast:

The weather continues to be on the warmer side for this time of year. That's great for us procrastinators that still need to get their wood in and stacked and finish up exterior home projects. Not so great for our friends at Sugarbush Resort and Mad River Glen as they need colder temperatures to get those snow guns blasting, backed up by some love from Ullr with some natural white precipitation. We've heard of some hearty folks earning their turns for the first tracks of the year. Hopefully temperatures will cooperate to allow Sugarbush to open for their traditional Thanksgiving Day opening.
Now onto the market update:

Currently there are 18 single family homes under contract or pending sale in the price range of $79,900 - $1,750,000 (down from 28 last month, and 25 two months ago),7 condominiums under contract or pending sale priced from $155,000 - $410,000 (down from 15 last month, and 21 two months ago), 13 undeveloped land parcels under contract or pending sale from $50,000 - $489,000 (up from 8 last month, and 12 two months ago), and 2 commercial properties under contract or pending sale from $295,000 - $750,000 (down from 3 last month, 2 two months ago).
There were 15 single family home sales in August 2021 from $225,000 - $1,100,000 (up from 6 sales in July). There were 9 condominium sales from $105,000 - $620,000 (down from 10 sales in July). There were 4 undeveloped land sales in August of 2021 from $109,500 - $360,000 (up from 1 sale in July). There were zero commercial sales in August 2021 (1 sale in July).
Our Take on the Central Vermont Real Estate Market:

Stick season here in the Mad River Valley is generally a fairly quiet time. Many restaurants and retail shops take a short break before the holiday and winter seasons ramp back up for their busy season. This is typically a similarly slow time for real estate agents. This past year + can best be described as frantic for the real estate industry. That pace has only slowed due to the lack of inventory. There are still plenty of buyers in all price points and across the spectrum of single-family homes, condos, and land.
The current inventory in the Mad River Valley is down to 9 single family homes (8 this time last month), 9 whole-ownership condos (8 this time last month), and 15 undeveloped land parcels (19 this time last month). In contrast, in the past calendar year there have been 107 single family home sales, 122 condo sales, and 63 land sales!
If you are a buyer actively searching in this ultra-competitive market, be sure to have your ducks in a row with your financing and down-payment. Or have some "creative" solutions to be able to waive a financing contingency. Also be sure to be connected with an agent who is ready, willing, and able to keep you in the loop as properties come to market. HINT, HINT, we're really good at that!
If you own property and are contemplating selling, this is literally the best time EVER to bring your property to market! Let us provide you with a complimentary market analysis. We think you'll be pleasantly surprised with the results!
Historical Mad River Valley Real Estate to August 31, 2021:

Below are two graphs that show the total number of units sold (single family homes, condominiums, commercial properties, undeveloped land), as well as the total dollar volume through August 31, 2021.
This blog post will be updated on a monthly basis to track year-to-date real estate sales in the Mad River Valley. The data is gathered from the State Property Tax Transfer records and includes all sales above $20,000. Vermont Property Transfer Tax data is typically +/- 3 months behind as it takes time for all the towns to file the returns with the State. Therefore, we are reporting here on accurate sales data from 3-months prior.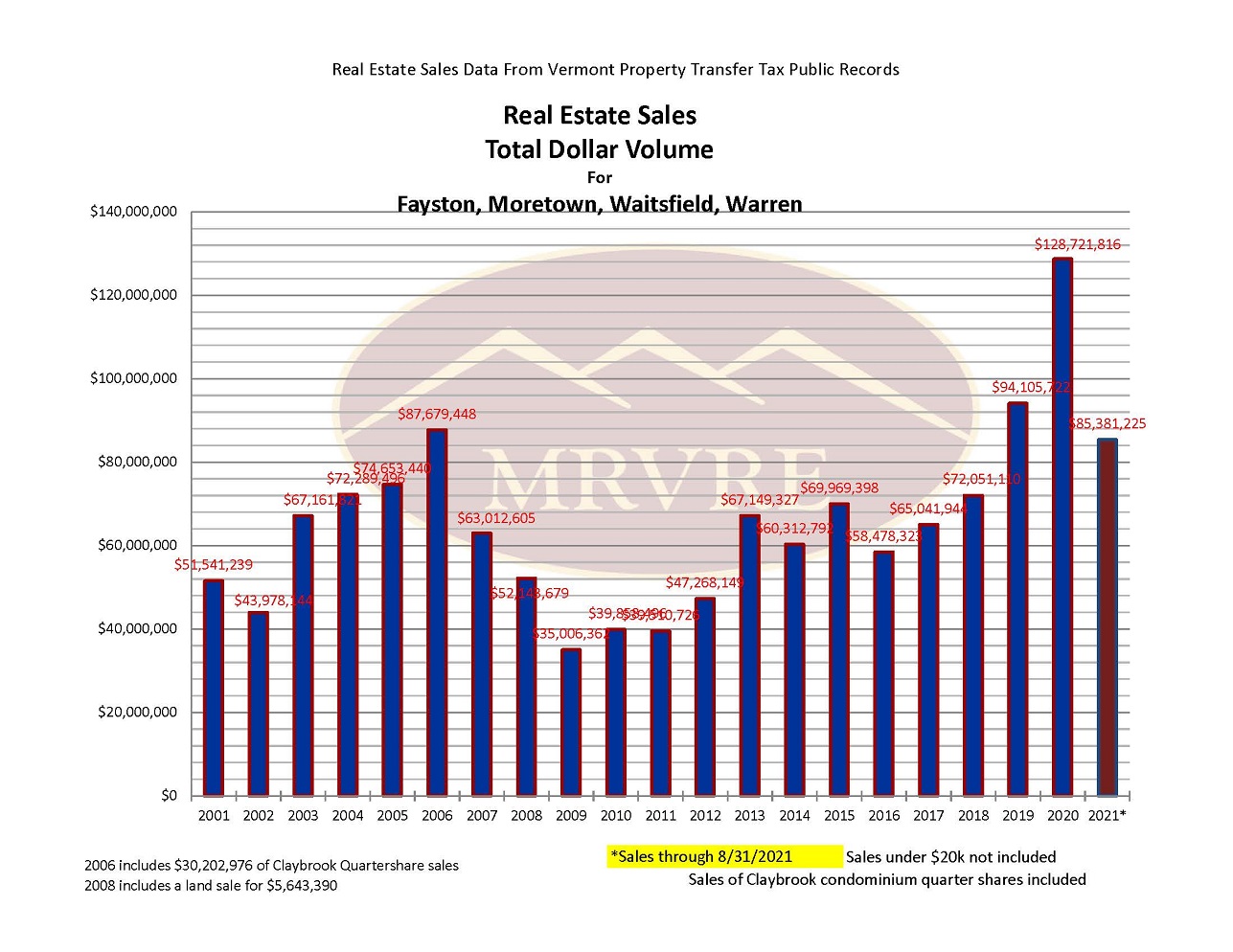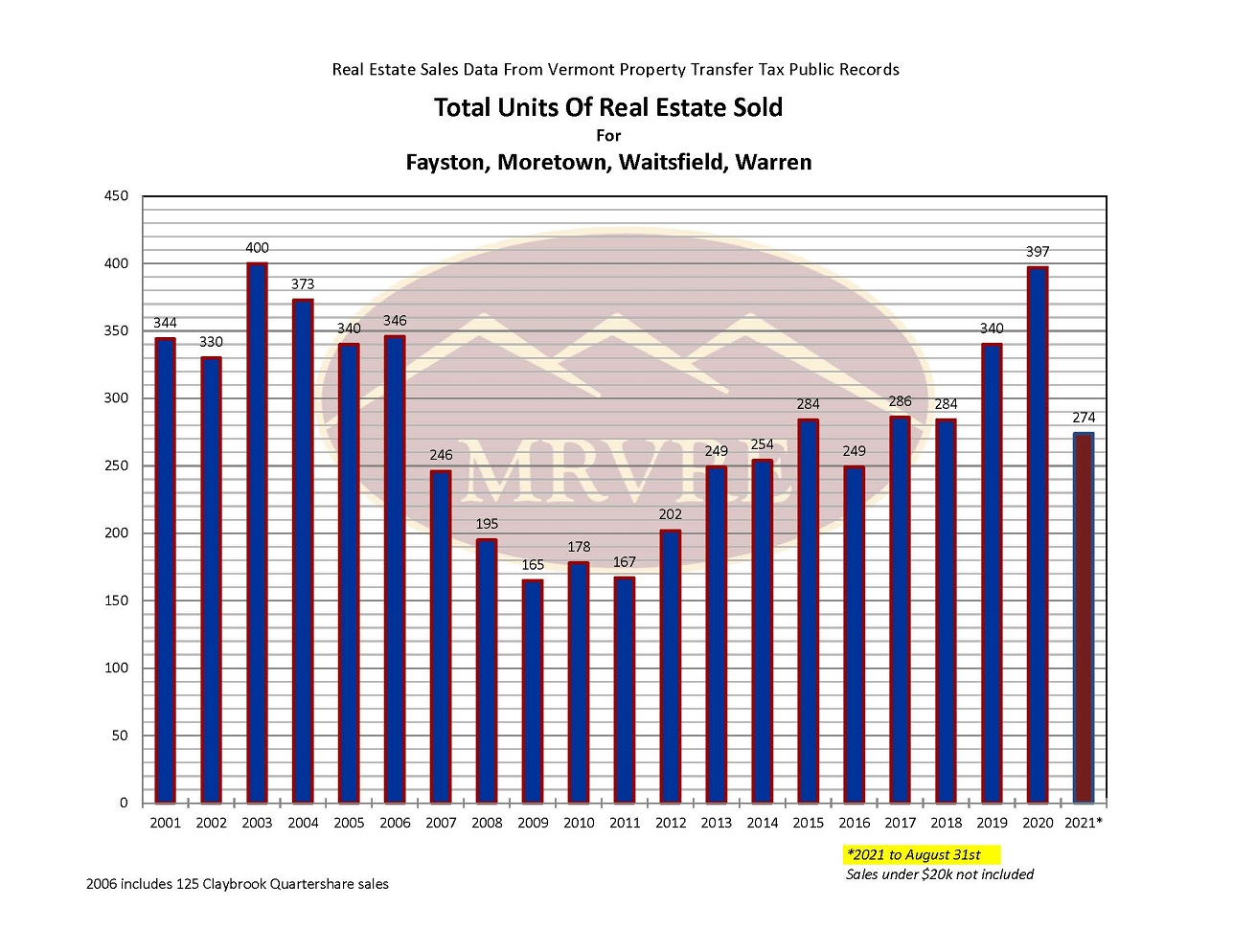 Whether you are a potential buyer or seller, this data is a valuable resource to help you make informed real estate and financial decisions.
If you have any questions about these graphs, or anything real estate related, give Mad River Valley Real Estate a call or send us an email.