2021 May Mad River Valley Real Estate Driven by Data
Posted on 5/13/2021 by Erik H. Reisner
In Brief:
Spring has finally sprung, the grass is green, flowers are budding, and the pollen is falling. ACHOO! Interstate travel restrictions have been lifted for the most part and we are seeing evidence of that with buyers reaching out to come look at homes, condos, and land. We're still wearing masks when interacting in-person, but it sure feels good to be able to get back to more of a "normal" way of life.
Skiing and the forecast:
The 2020-2021 ski and ride season is now behind us and we are looking forward to warmer season activities as the temperatures rise. Do you know what is already hot? The real estate market continues to move at a scorching pace! Some listings are lasting hours instead of days or months. Inventory is coming on in dribs and drabs and demand continues to outweigh supply.
Now onto the market update:
Currently there are 16 single family homes under contract or pending sale in the price range of $59,900 - $3,950,000 (down from 19 last month, and 13 two months ago), 18 condominiums under contract or pending sale priced from $99,900 - $1,050,000 (up from 16 last month, and 12 two months ago), 15 undeveloped land parcels under contract or pending sale from $49,500 - $1,100,000 (down from 16 last month, and 15 two months ago), and 1 commercial property pending sale listed for 975,000 (down from 3 the last two months).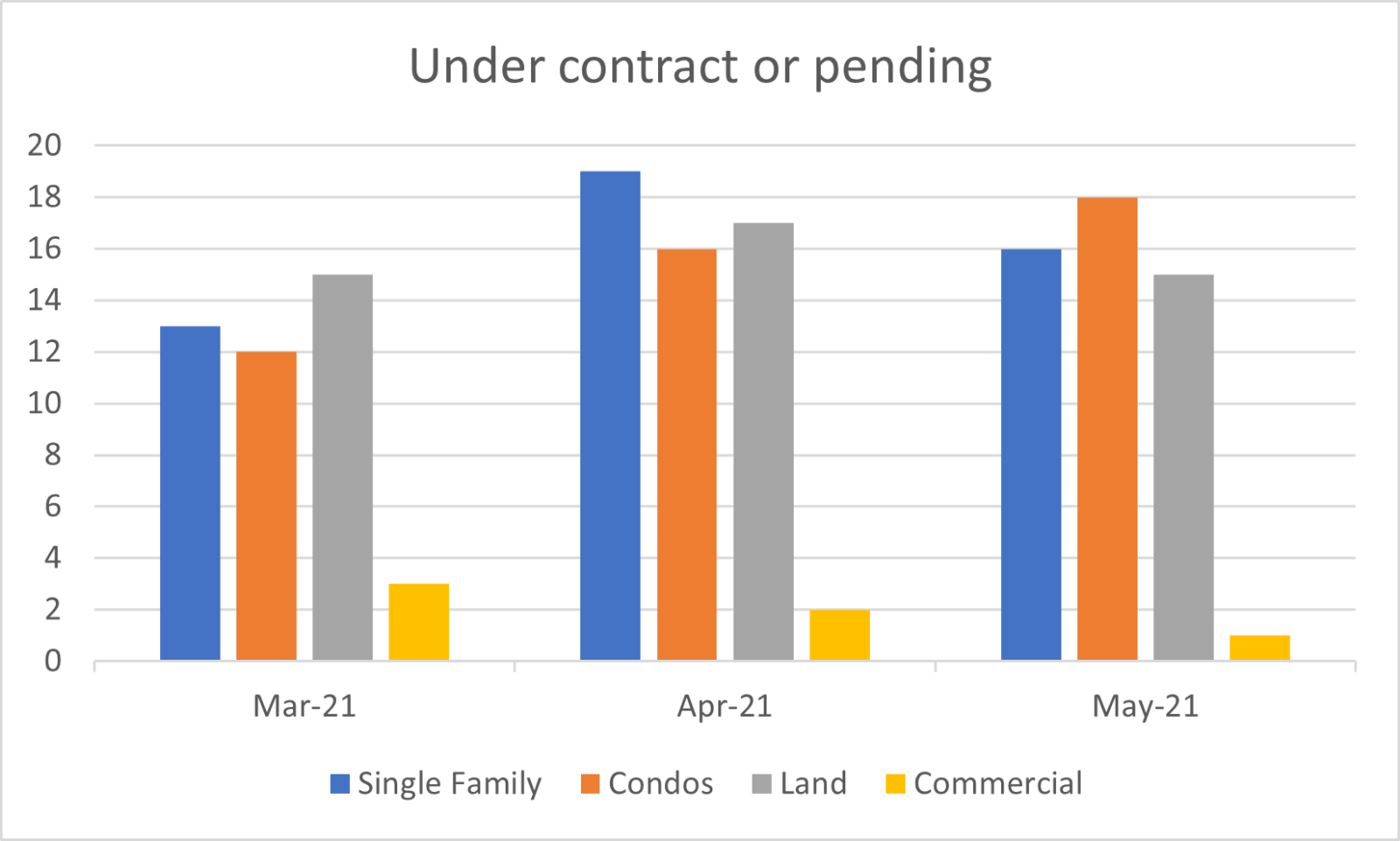 There were 3 single family home sales in February 2021 from $295,000 - $900,000 (down from 6 sales in January). There were 5 condominium sales from $87,500 - $1,125,000 (up from 3 sales in January). There were 8 undeveloped land sales in February of 2021 from $49,500 - $175,000 (up from 1 sale in January). There were no commercial sales in February 2021(2 sales in January).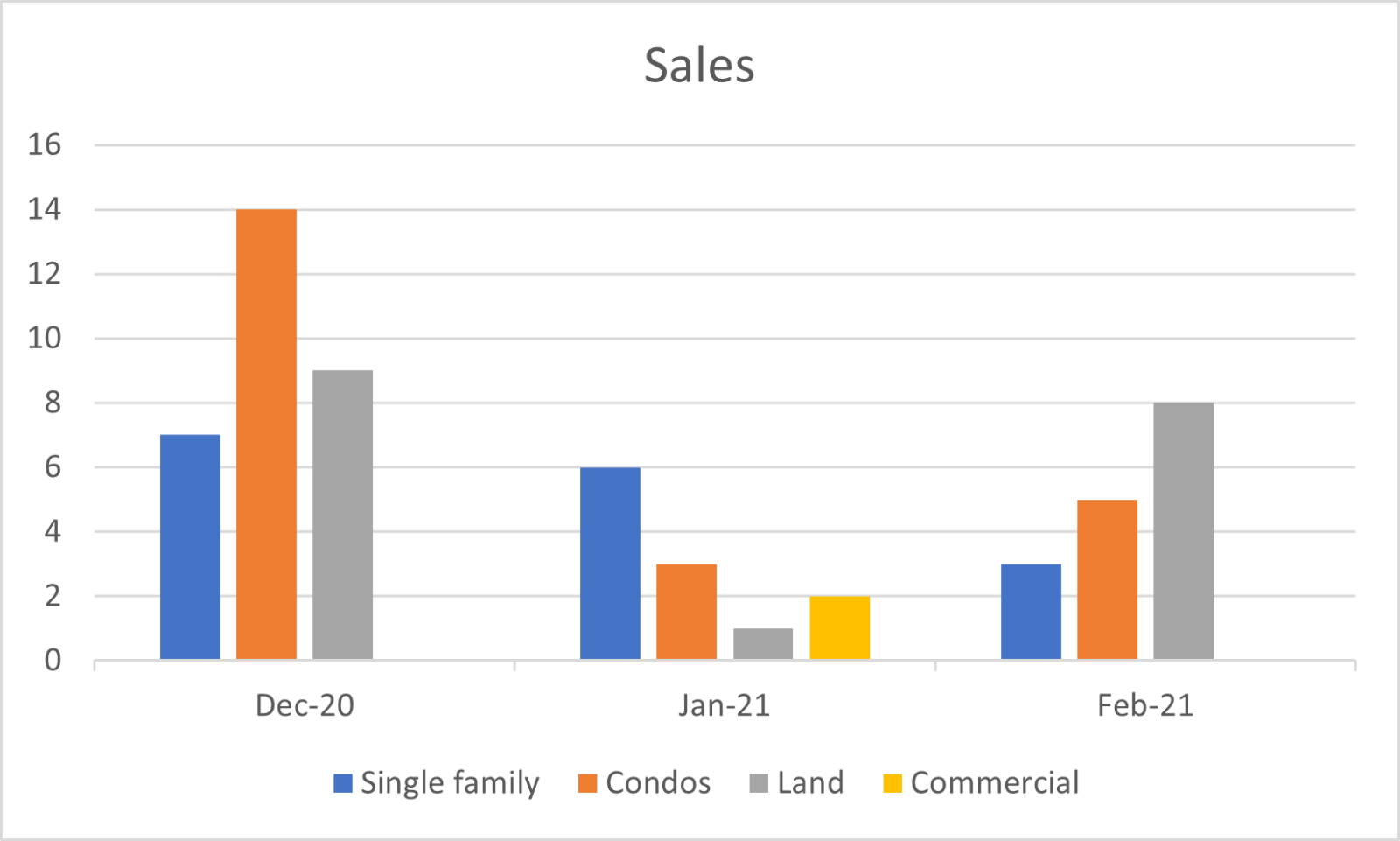 Our Take on the Central Vermont Real Estate Market:
Typically, as the grass starts to grow new inventory starts to come on the market. While we are seeing listings pop up here and there, the inventory across all sectors remains at historic lows.
The current inventory in the Mad River Valley is limited to 9 single family homes, 6 whole-ownership condos, and 22 undeveloped land parcels. In contrast, in the past calendar year there have been 130 single family home sales, 121 condo sales, and 71 land sales!
When quality listings do hit the market, we are often seeing a mad rush of buyers scheduling appointments. Often listing agents are putting a deadline in for "highest and best" offers. One property in Moretown recently had 37 showings in less than 3 days and 17 offers!
If you are a potential seller, if there was ever a time to sell to maximize return on your investment, the time is NOW! The agents at Mad River Valley Real Estate are here to conduct a complimentary market analysis for you. If you are a buyer, reach out and we'll share our tips and tricks to stay poised and vigilant in this ultra-competitive marketplace.
Historical Mad River Valley Real Estate to February 28, 2021:
Below are two graphs that show the total number of units sold (single family homes, condominiums, commercial properties, undeveloped land), as well as the total dollar volume through February 28, 2021.
This blog post will be updated on a monthly basis to track year-to-date real estate sales in the Mad River Valley. The data is gathered from the State Property Tax Transfer records and includes all sales above $20,000. Vermont Property Transfer Tax data is typically +/- 3 months behind as it takes time for all the towns to file the returns with the State. Therefore, we are reporting here on accurate sales data from 3-months prior.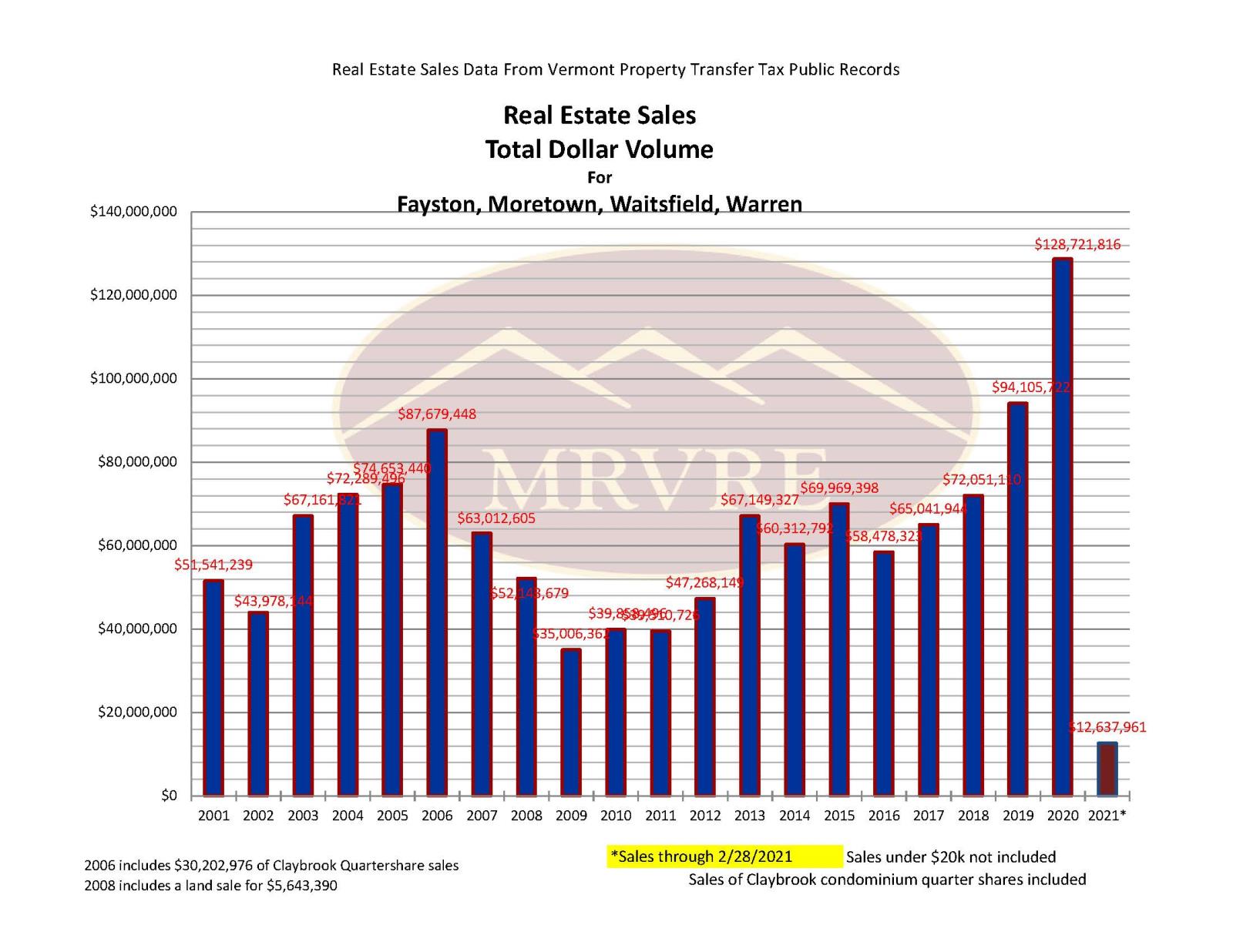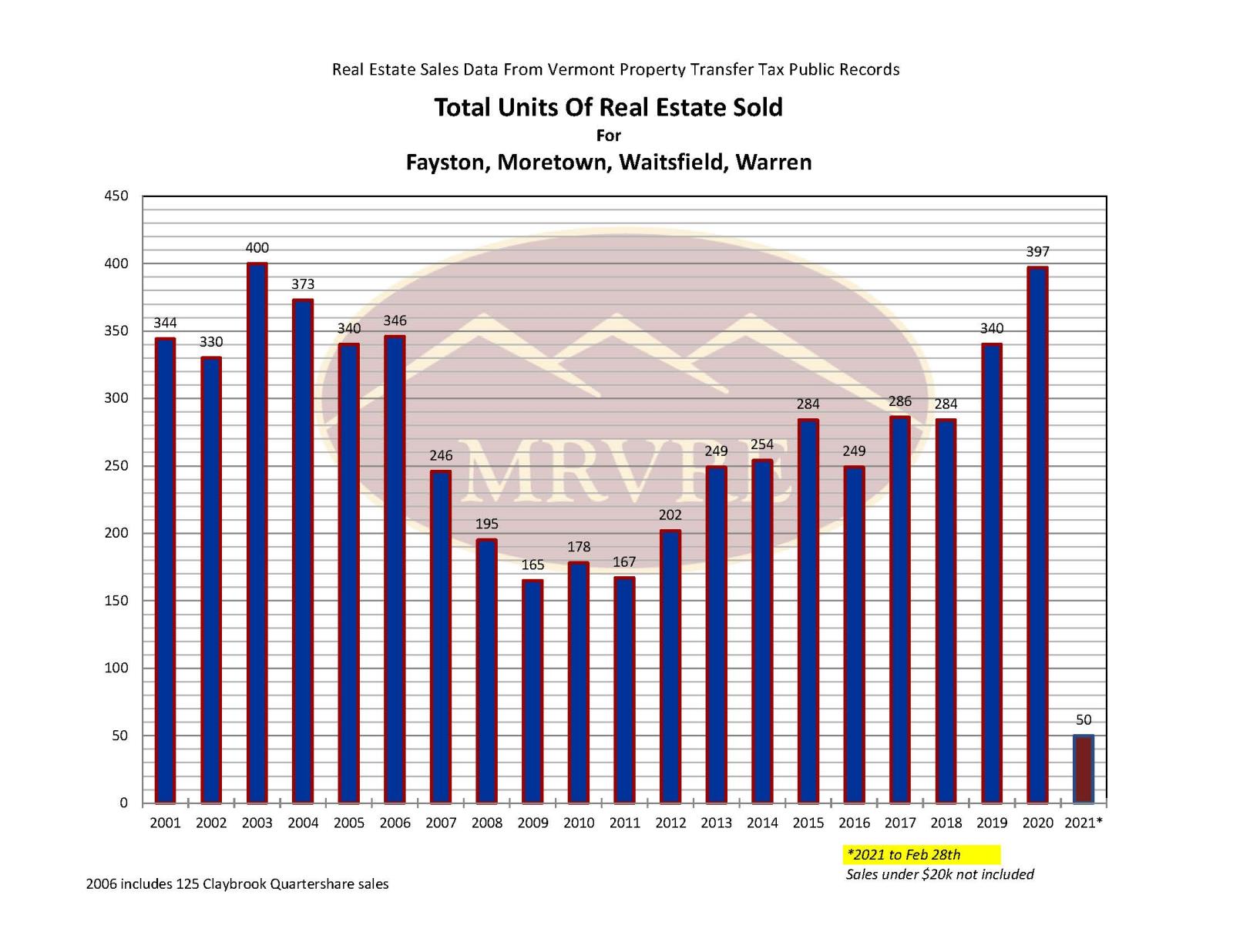 Whether you are a potential buyer or seller, this data is a valuable resource to help you make informed real estate and financial decisions.
If you have any questions about these graphs, or anything real estate related, give Mad River Valley Real Estate a call or send us an email.