2021 July Mad River Valley Real Estate Driven by Data
Posted on 7/9/2021 by Erik H. Reisner
In Brief:
Nothing feels more "normal" in the Mad River Valley than seeing the "not-so-normal" Warren 4th of July Parade back! A lot of the usual suspects had floats, and of course Bernie Sanders made an appearance. Historically, Memorial Day kicks off the real estate "selling season" and the July 4th Holiday is when second home/condo buyers start coming back to the Valley to recreate and shop real estate. That trend was bucked last year and the real estate market continues to be as hot as ever.
Recreation and the forecast:
When the weather has permitted, the Sugarbush Golf course has seen its fair share of stroke play and the disc golf course now has a Thursday Night Throwdown Disc Golf League. There are plenty of opportunities on and off road and in the Mad River for your summer recreation enjoyment. The real estate market can be described as a sport these days. Lots of competition for property whether it be single family homes, condos, or even undeveloped land.
Now onto the market update:
Currently there are 22 single family homes under contract or pending sale in the price range of $250,000 - $3,950,000 (up from 19 last month, and 16 two months ago), 15 condominiums under contract or pending sale priced from $77,000 - $849,000 (up from 12 last month, and down from 18 two months ago), 6 undeveloped land parcels under contract or pending sale from $60,000 - $250,000 (down from 9 last month, and 15 two months ago), and 3 commercial properties under contract or pending sale from $160,000 - $975,000 (same as last month, and up from 1 two months ago).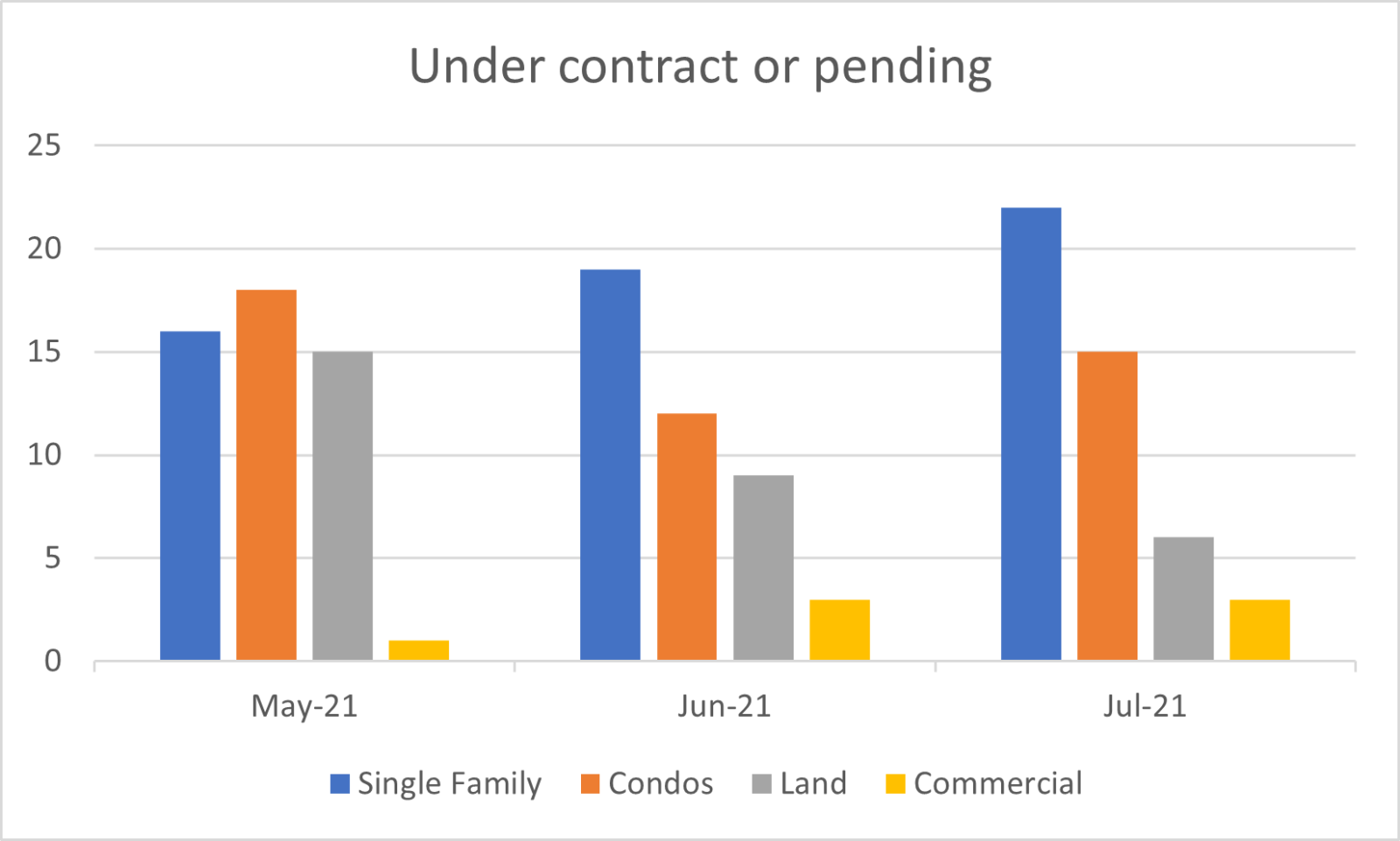 There were 8 single family home sales in April 2021 from $230,000 - $1,335,000 (down from 10 sales in March). There were 8 condominium sales from $105,000 - $511,000 (down from 9 sales in March). There were 5 undeveloped land sales in March of 2021 from $66,500 - $230,000 (down from 10 sale in March). There was 1 commercial sale in April 2021 (1 sale in March as well).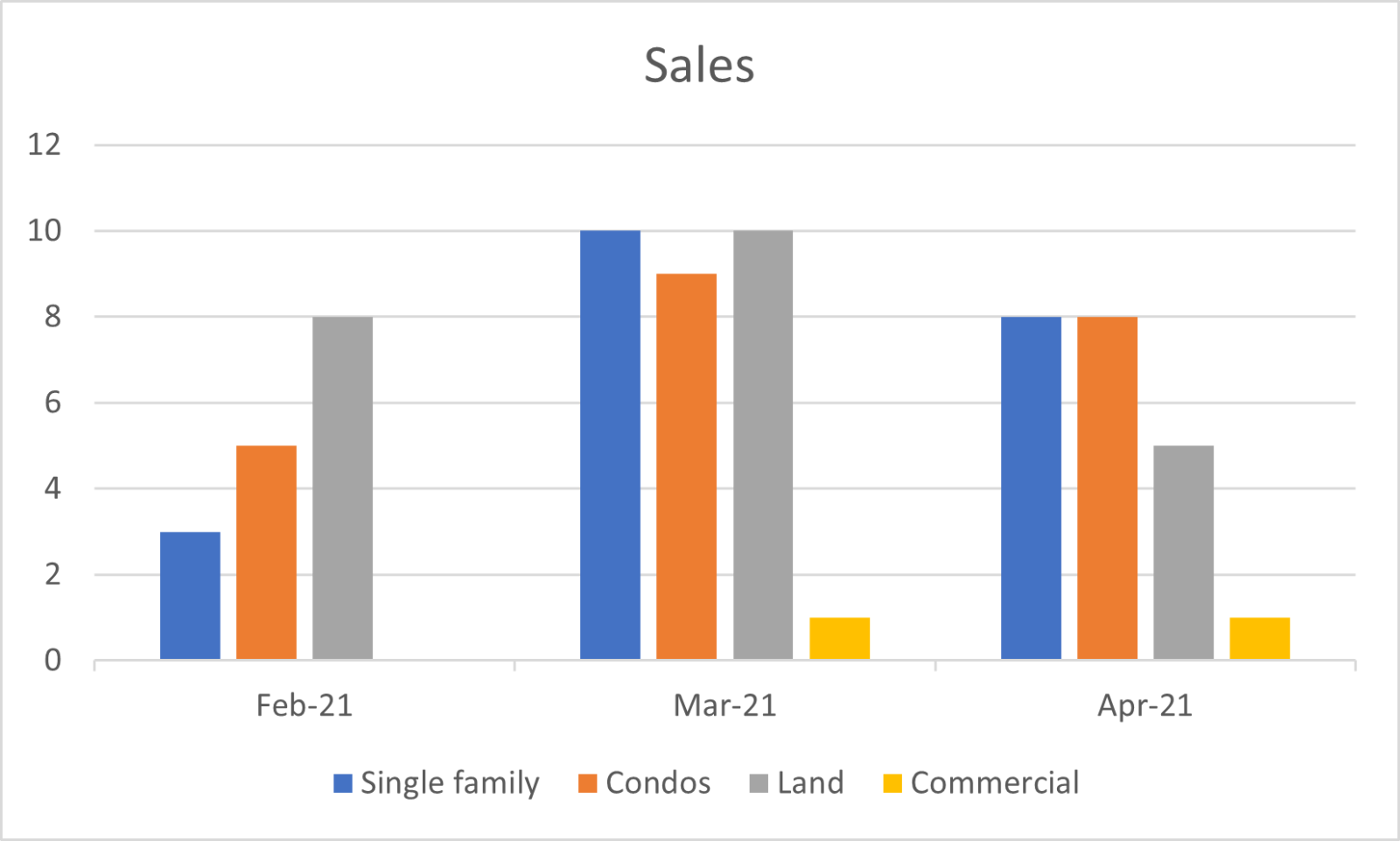 Our Take on the Central Vermont Real Estate Market:
New inventory continues to trickle in at an unpredictable and slow pace. With the possible exception of the luxury market, most new listings are getting swift activity and selling very quickly, often well above the list price. While inventory is low and demand is clearly very high, we are seeing some sellers price their properties too high even for this unprecedented market.
The current inventory in the Mad River Valley is down to 12 single family homes (15 this time last month), 6 whole-ownership condos (4 this time last month), and 26 undeveloped land parcels (22 last month). In contrast, in the past calendar year there have been 132 single family home sales, 137 condo sales, and 72 land sales!
If you are a buyer actively searching in this ultra-competitive market, be sure to have your ducks in a row with your financing and down-payment. Also be sure to be connected with an agent who is ready, willing, and able to keep you in the loop as properties come to market. HINT, HINT, we're really good at that!
If you own property and are contemplating selling, this is literally the best time EVER to bring your property to market! Let us provide you with a complimentary market analysis. We think you'll be pleasantly surprised with the results!
Historical Mad River Valley Real Estate to April 30, 2021:
Below are two graphs that show the total number of units sold (single family homes, condominiums, commercial properties, undeveloped land), as well as the total dollar volume through April 30, 2021.
This blog post will be updated on a monthly basis to track year-to-date real estate sales in the Mad River Valley. The data is gathered from the State Property Tax Transfer records and includes all sales above $20,000. Vermont Property Transfer Tax data is typically +/- 3 months behind as it takes time for all the towns to file the returns with the State. Therefore, we are reporting here on accurate sales data from 3-months prior.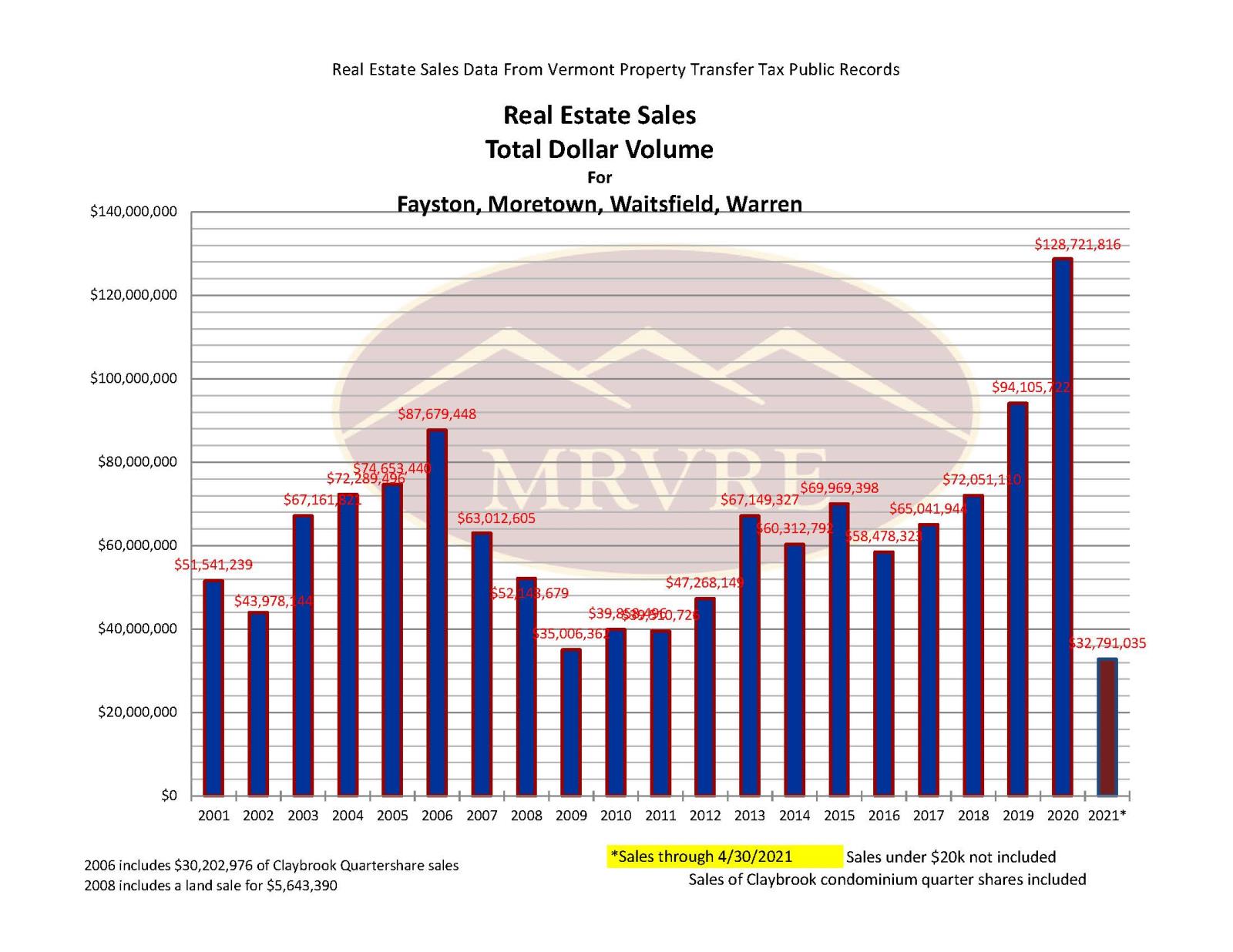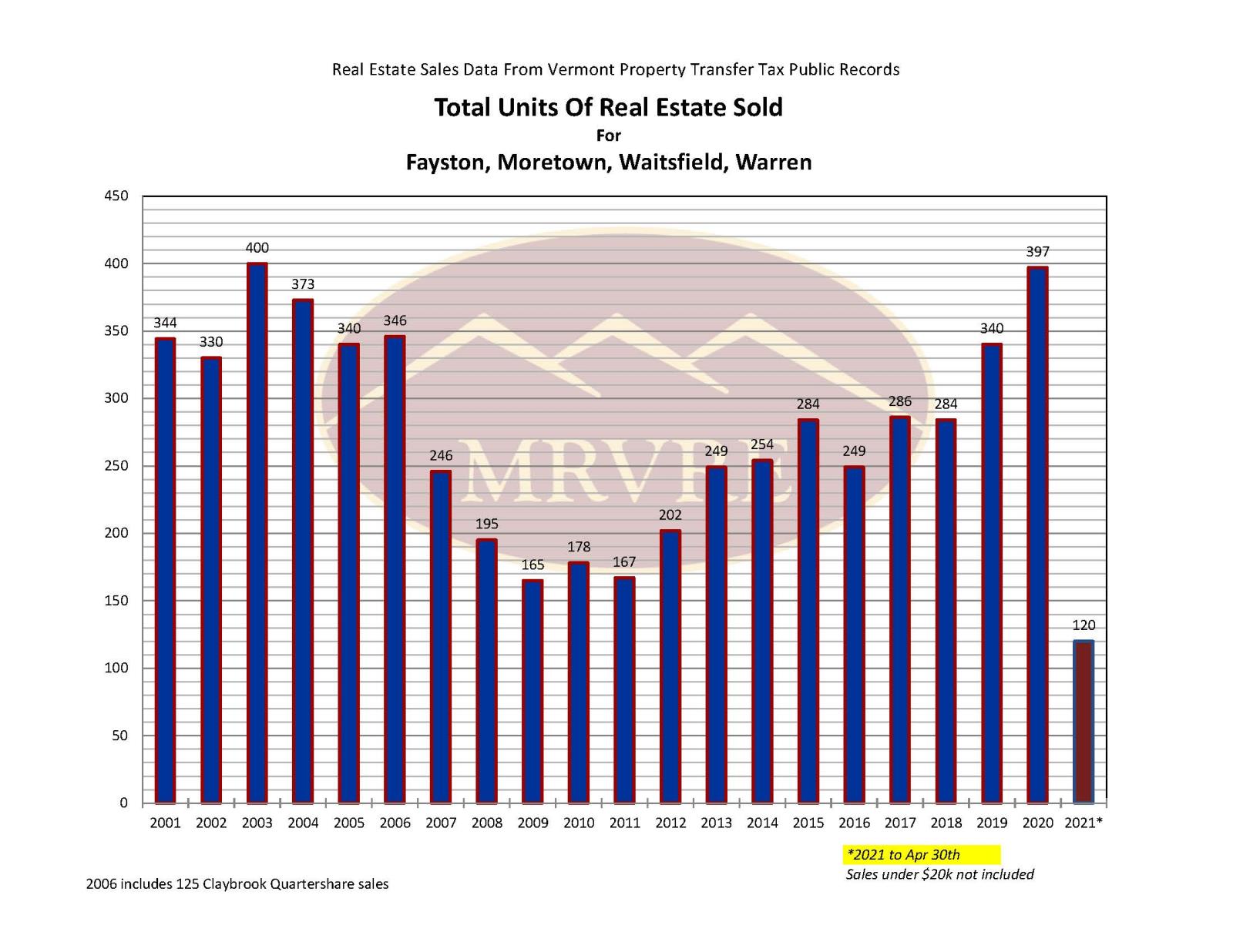 Whether you are a potential buyer or seller, this data is a valuable resource to help you make informed real estate and financial decisions.
If you have any questions about these graphs, or anything real estate related, give Mad River Valley Real Estate a call or send us an email.