2021 April Mad River Valley Real Estate Driven by Data
Posted on 4/16/2021 by Erik H. Reisner
In Brief:

This time last year the real estate industry and many other businesses were in a COVID-19 lock down. We weren't allowed to show properties, not even virtually! There was a fairly healthy stock of housing, but no way for Realtors or consumers to interact in the marketplace. Fast forward a year and we now can see the light at the end of the COVID-19 tunnel with fewer restrictions and more vaccines being administered daily. However, the stock of homes, condos, and even land has been depleted to historic low numbers.
Skiing and the forecast:

April showers bring May listings? We sure hope so and are ready to get your property listed in what can be easily described as the best Seller's market EVER. It does appear that spring is here to stay. The number of spring skiing days are definitely numbered as we have had a stretch of warm and sunny days. So get your spring skiing in while you can!
Now onto the market update:

Currently there are 19 single family homes under contract or pending sale in the price range of $59,900 - $2,495,000 (up from 13 last month, and 16 two months ago), 16 condominiums under contract or pending sale priced from $99,900 - $1,050,000 (up from 12 each of the last 2 months), 17 undeveloped land parcels under contract or pending sale from $49,500 - $575,000 (up from 15 last month, and 16 two months ago), and 3 commercial properties under contract or pending sale priced from $69,500 – 975,000 (down from 3 last month, and 1 two months ago).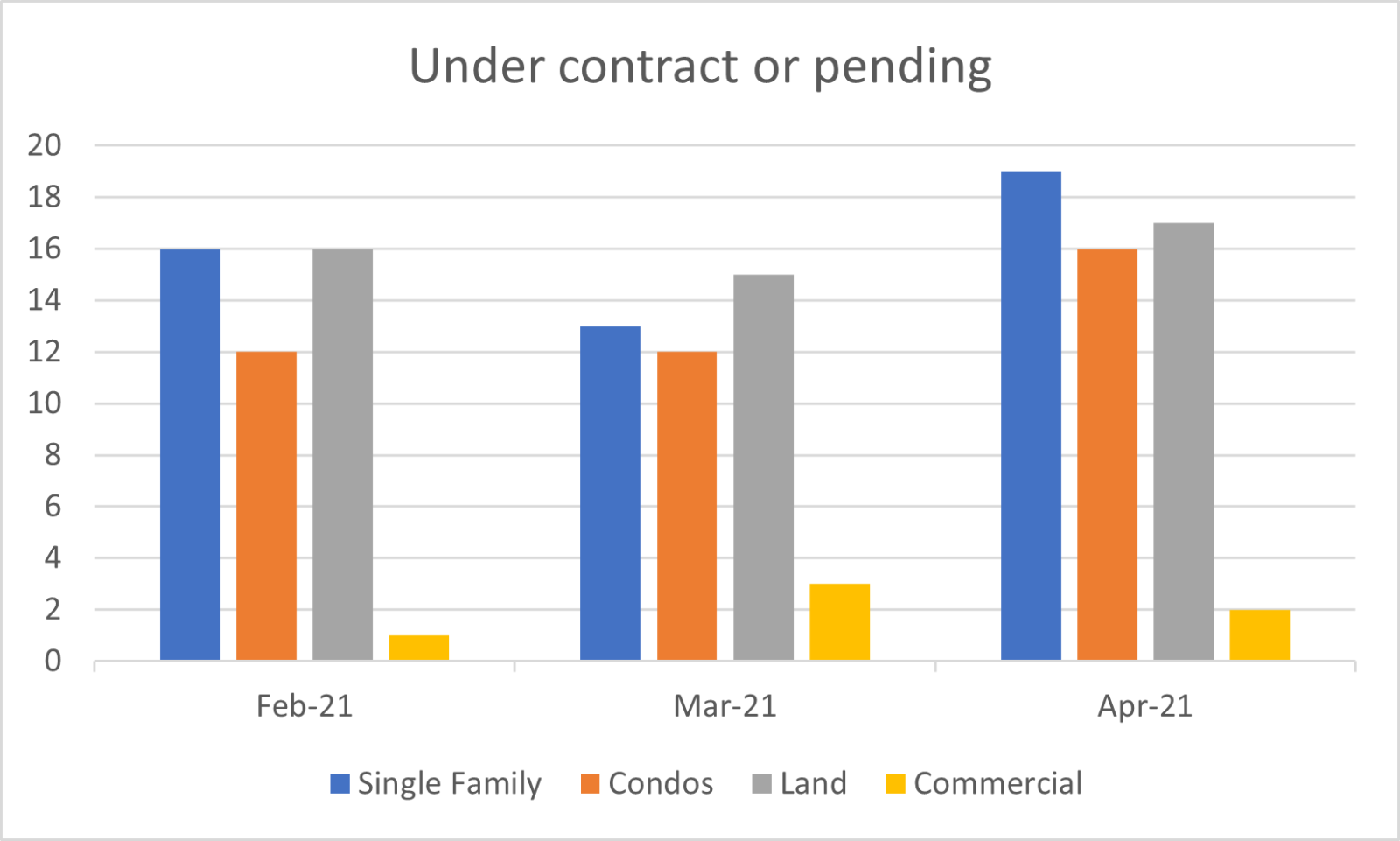 There were 6 single family home sales in January 2021 from $225,000 - $1,070,000 (down from 7 sales in December). There were 3 condominium sales from $85,000 - $257,500 (down from 14 sales in December). There was 1 undeveloped land sale in January of 2021 for $89,000 (down from 9 sales in December). There were 2 commercial sales in January 2021 from $356,250 - $500,000 (no sales in December).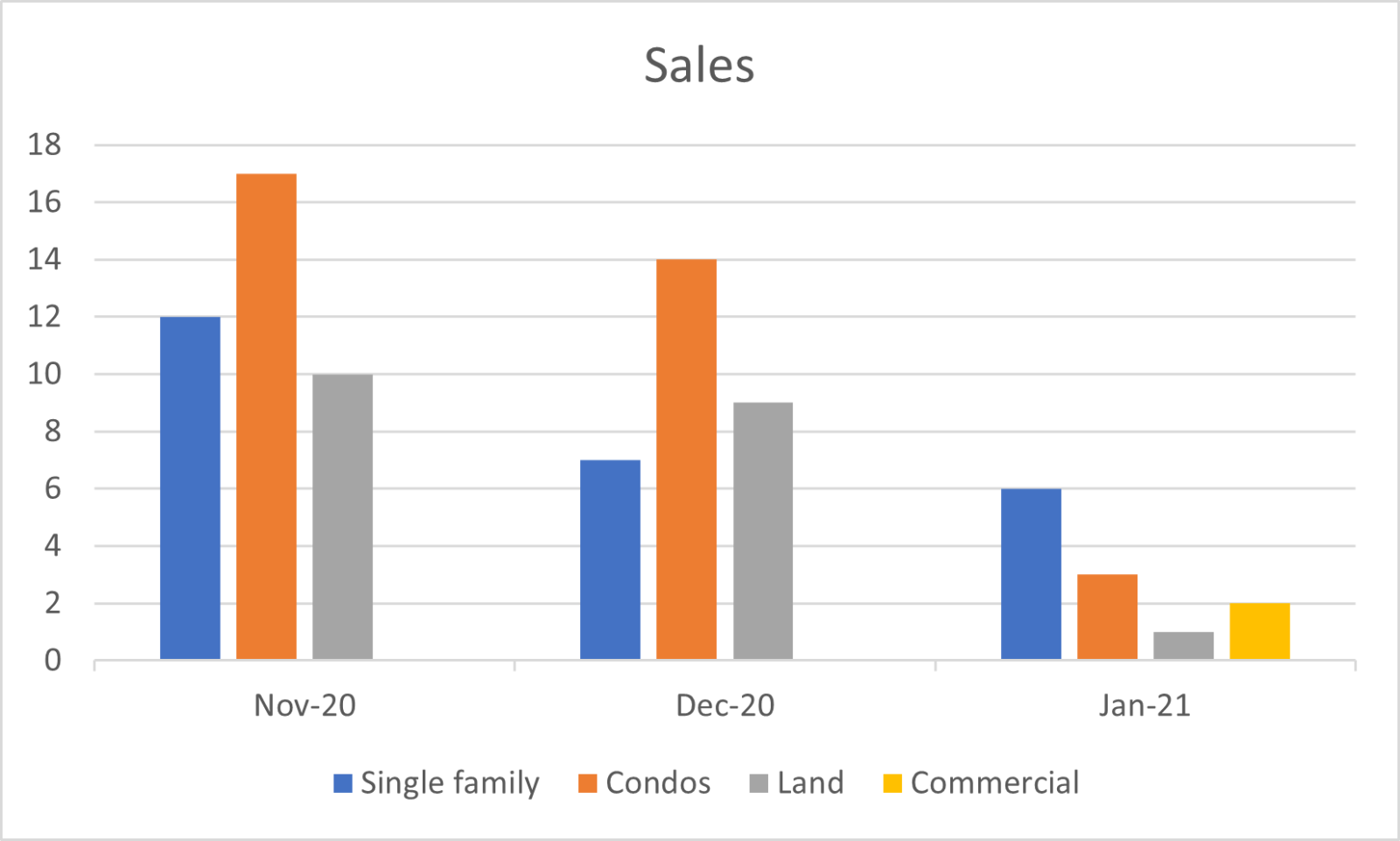 Our Take on the Central Vermont Real Estate Market:

The first few months of the year are typically slow for sales. While the past year has been anything but typical or predictable, it is not surprising to see the number of sales continue to drop based on the available inventory to purchase. As I type this the current stock of available inventory consists of 8 single family homes, 5 whole-ownership condos, and 24 undeveloped land parcels!
If you are a potential seller, if there was ever a time to sell to maximize return on your investment, the time is NOW! The agents at Mad River Valley Real Estate are here to conduct a complimentary market analysis for you. If you are a buyer, reach out and we'll share our tips and tricks to stay poised and vigilant in this ultra-competitive marketplace.
Historical Mad River Valley Real Estate to Jan. 31, 2021:

Below are two graphs that show the total number of units sold (single family homes, condominiums, commercial properties, undeveloped land), as well as the total dollar volume through January 30, 2021.
This blog post will be updated on a monthly basis to track year-to-date real estate sales in the Mad River Valley. The data is gathered from the State Property Tax Transfer records and includes all sales above $20,000. Vermont Property Transfer Tax data is typically +/- 3 months behind as it takes time for all the towns to file the returns with the State. Therefore, we are reporting here on accurate sales data from 3-months prior.