The Christmas Tree Debate
Posted on 12/19/2016 by Erik H. Reisner
It's the time of year when many families gather together to choose and decorate their Christmas tree.
People agonize every year over getting a "real" Christmas Tree, or an artificial one. I've heard the argument that you shouldn't cut down trees. To the contrary Christmas tree farming is the original green industry. Real Christmas trees are natural, biodegradable and renewable!
Artificial trees, on the other hand, are a petroleum-based product containing many other chemical compounds typically produced in China. "One way to protect the environment is to choose renewable materials and energy wherever possible," explains Dr. Patrick Moore, co-founder of Greenpeace, in arguing in favor of real Christmas trees. "Artificial trees are made from non-renewable plastics and petroleum-based products. Although some people claim that these trees last a lifetime, most are thrown away within nine years—and remain in landfill sites for centuries."
We like to support other local small businesses, and especially those that are GREEN! This is the third year I've taken my family to the Meadow Ridge Farm in Middlesex, VT to search for that 'perfect' specimen and learn more about Christmas Tree farming from Patrick and Tamara White, owners/farmers.
Christmas trees grown on farms are an agricultural crop. To ensure a constant supply, they replant at least one new seedling for every tree harvested (they'd go out of business if they didn't!).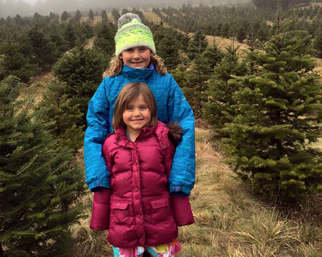 While they're growing, Christmas trees absorb carbon dioxide and other gases while emitting fresh oxygen. The National Christmas Tree Association reports that 1 acre of Christmas trees produces the daily oxygen requirement for 18 people. With about 8 acres of trees growing, our farm is producing oxygen for 144 people.
After they are harvested and enjoyed at Christmas, trees can be recycled. Many local communities offer drop-off locations where Christmas trees can be chipped to produce mulch, used as whole trees in slope stabilization projects, or even burning in biomass energy plants to produce green electricity.
Their trees also provide habitat for a wide range of wildlife. Over the years, walks through the trees have resulted in countless sightings of song birds, turkey, deer, fox, rabbits—and even one very large moose.
Christmas tree farming also keeps land open and in agriculture—an important consideration in a time of heavy pressure to develop land.
What I found when we got there Sunday afternoon was a flurry of activity. Families hiking up the gently sloping meadow filled with Christmas Trees of all sizes. At the bottom of the hill smiling owners Patrick and Tamara and were helping their happy customers directing traffic, answering questions, and prepping the trees for transport.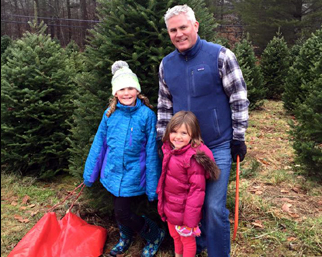 We were handed a heavy-duty red tarp and a bow saw. Off we went, up the hill to find the perfect tree. It didn't take long! There were so many lush, wonderfully shaped trees to choose from. Our biggest consideration was the height, as I wanted to be sure it could fit in our home!
We found the "one," and I got to work cutting it down, strapped it to the red tarp, and hauled it down the hill. At the bottom they have this machine I'll call "The Shaker." They place the base of the tree on this small metal platform, and it shakes off dead needles, and I'm sure snow if we had any… Then the tree goes through a metal ring and is compressed with plastic mesh for transport.
Around the corner in the "Garage" is where you pay for your tree, and sample home-made cookies and hot chocolate. This was my daughters' favorite part!
They had twine if you needed something to tie the tree down to your vehicle's roof. I have a pick-up truck, so it was an easy haul home.
And Dads out there, the Three Penny Tap Room is just a few miles away. Great place to stop afterwards!
What a great experience! So happy to support a LOCAL and GREEN business here in Central Vermont!