Multiple Offers: The Good, Bad, and Unknown
Posted on 7/23/2020 by Brian Kitchens
Although a multiple purchase offer environment is quite common in nearby urban markets, that has not historically been the case in the Mad River Valley. However, today buyers and sellers here are experiencing a rapid dynamic shift to market conditions in real time. Over the past few months the demand for housing in the Valley has significantly increased, while the re-supply of housing to meet these demands is trailing. Historically low interest rates combined with increased flexibility from buyer's new work from home policies are creating a feeding frenzy among buyers who are seeking refuge in Vermont and we're here to help.
For Sellers
Having a choice to pick from multiple offers is optimal for a seller during a sales transaction. In these conditions, buyers are typically forced to trim expectations, increase their opening bid, and meet the seller's increasingly stringent requirements in order to prevail over other bidders. The buyers who do not "step up" are left to continue their search elsewhere or double as back-up offers ultimately causing the winning bidder to march forward and cooperate. Sellers who have the luxury to choose from multiple bids can be selective about terms, price, and even the personality of the buyers. Bear in mind, this competitive environment can also turn some buyers off who will choose to pause their search until the competition slows. Moreover, consider that not every single home and certainly not every go-to-market strategy will create a multiple bid scenario.
A strong Seller's market does not mean the sky is the limit. Even with the present favorable conditions for sellers, it is possible to over-inflate the asking price such that purchasers are turned off. If a property is not getting visits under current conditions, it is likely because of over-pricing.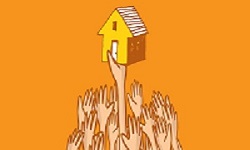 For Buyers
Finding a home that meets search requirements can often seem like the proverbial needle in the haystack. Adding the additional layer of competition within a multiple offer scenario can be a negative experience for buyers. Often times bidding takes place blindly, putting pressure on buyers to forgo their ideal terms and price. The buyer's focus is split between hedging out other bidders and mitigating risk. Once the dust settles, the winning bidder may contemplate they overpaid or gave up too much, and the second-place bidders wonder if they missed out on the opportunity by a small margin.
Thankfully, these market conditions are no stranger to the Mad River Valley Real Estate team. We are here to support sellers in maximizing their investment during these optimal conditions and confidently provide guidance to buyers to avoid over inflation of fair market valuations and inheriting unnecessary risks. With experience comprehending dynamic market shifts, whether you're a buyer or seller looking to navigate these challenging market conditions, we're here to help.
Give us a call today to discuss how we can help navigate this dynamic real estate market environment to meet your needs!