Help Green Up the Green Mountain State
Posted on 4/20/2016 by Erik H. Reisner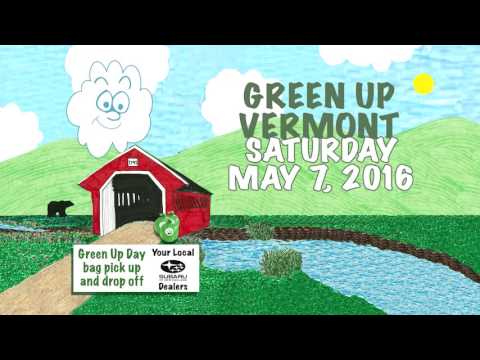 It's starting to get GREEN in the Green Mountain State. Unfortunately, the grass, leaves and trees can't do it on their own. We need your help to Green Up Vermont.
First started in 1970, Green Up Day this year in on May 7th, 2016. Volunteers throughout the state head out on the roads and highways to pick up litter and put it in green bags for pick up.
It's a great way to start out the spring by pitching in and helping out in your local community. MRVRE wants you to be safe out there, so here are some safety tips:
"RULES OF THE ROAD"
What to Wear, Dress for the Occasion
Clothing: light or bright colored.
Durable or heavy shoes, boots, pants, tops, jackets, hats. Boots are recommended, with ankle support preferable.
Gloves for working—to protect against sharp objects and wet weather.
Layers of clothing for inclement weather.BE TICK SMART! Wear long pants, avoid tall grass, and check for ticks upon your arrival home.
How to Behave, Safely and Sensibly
Team up, to Green Up. Work with partners or teams.
Work on the left side of the road, facing oncoming traffic.
Work one side of a roadway at a time. Travel by vehicle to the other side.
Keep vehicles on same side of roadway as the volunteers.
Park all vehicles well clear of roadway, 10 feet from shoulder.
Watch footing when working on slopes.
Avoid overexertion. Take breaks. Drink water.
Do not remove dead animals or suspected toxic or hazardous waste. Needles and Meth Lab containers should be left where they are! Inform leaders who can then inform proper authorities, such as town or state road maintenance personnel or the State Police.
Also…
Keep a First Aid kit available.
For safety of children, adult supervisors should always be present.
The coordinator could keep a list of drivers' names and names of children going with those drivers and their destinations.
For safety of children working in groups—two cars should be assigned to each group. The first car would serve as the "lead/caution" car. The second would pull up the rear with the children working between the cars in a "safety zone".
Green up at Home
After you're done doing your part to help clean up your community, time to focus on a Green Up and Clean Up at home.
This is a great opportunity to go through your house, garage, shed, barn, etc… and get rid of things that are taking up precious space.
Believe it or not, some of the bottles, cans, and boxes you have might be considered hazardous waste, and should not go to the transfer station or landfill. Examples include: Bleach products (including tub, tile & toilet cleaners and laundry soaps), drain openers, oven cleaners, floor wax, solvents, tar, adhesives, pesticides, aerosols, moth balls, gasoline, kerosene, used or contaminated oil, degreasers, polishes, transmission fluid, brake fluid, spray paint.
If you're lucky enough to live in the Mad River Valley, there is a Household Hazardous Waste Collection day on May 14, 2016 at the Harwood Union High School from 9:00 AM until 2:00 PM.
If you're somewhere else in Central VT check out the Central Vermont Solid Waste Management District for more information.
Thanks for helping make the Mad River Valley and the Green Mountain State GREEN!